Samuel Styles – Pepsi (Local 70)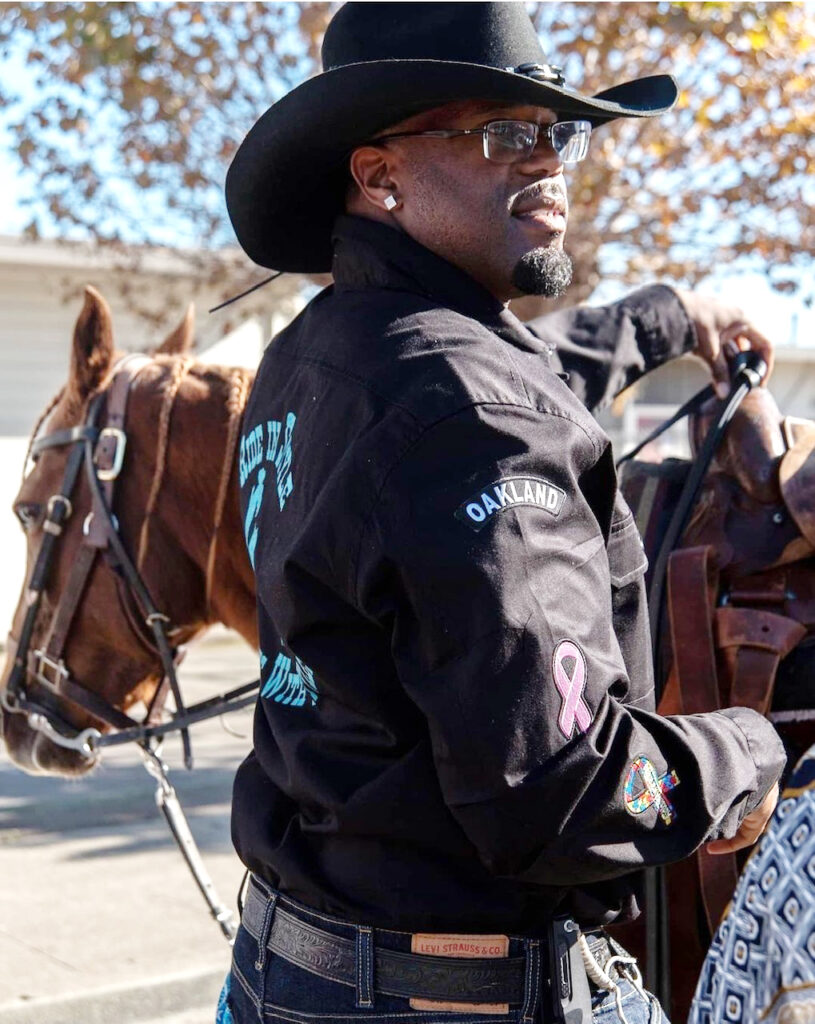 Samuel Styles has been a member of Teamsters Local 70 and worked as a delivery driver for Pepsi in Hayward for nearly three years. He's out delivering Pepsi products every day to Safeway and Lucky stores, 7-11s, neighborhood corner stores, and restaurants. "I've delivered to every city in the Bay Area in one week. It's great because I get to see different things, like restaurants that I'd like to try."
The benefits he appreciates most about being in the union are the medical and dental. "I worked non-union and it didn't come with either of those," he says. "Also, having a union helps to resolve issues…we have a union rep who can come help mediate situations that couldn't get resolved between supervisors and employees."
But, like a true Teamster of yore, Styles' real love is horses.
Styles started riding horses at six years old up in the Oakland hills. When he saw his first Oakland Black Cowboys parade, he knew he wanted to be part of it. As a kid, he says he'd "work to ride," cleaning stalls, grooming the horses, and doing whatever was needed to earn his way onto a horse. He bought his first horse when he was 20 years old and brought it to events, including those sponsored by the Oakland Black Cowboys.
Then he met some troubled kids; one had autism and another had anger issues. He invited them up to the ranch to get them on the horse; they fell in love with it and with riding and he fell in love with connecting kids with horses. As the years went on, his work with kids continued, as he offered lessons for those who could afford it, and mentorship for those who could not. "We give kids in the urban community an opportunity to ride and enjoy it. Some are on scholarship, so they don't have to pay. We bring the horses to schools so kids can see and pet them. And we do events in Oakland since that's where we're from."
Styles currently has two horses at the ranch in Fremont, a Tennessee Walker and a Quarterhorse, which is a competition horse. He had a third, but it died last Thanksgiving.
Generally, he gives lessons on the weekends, from 11 a.m. to 2 p.m. Those who are on the mentoring track work around the ranch and then they can ride after the lessons are over. Styles says he usually works with four to eight kids at a time, though much of that came to a halt during COVID.
"I've been working with one girl for a few years, she's 13 now. She's been competing, and she has also appeared in a music video and in photoshoots. Being skilled on a horse is something that she and others could use to get college scholarships, be it in rodeo, jumping, or dressage. It's a great way for kids to get away from the cell phone and social media, and instead, be in nature and learn some things." Styles says that one of his team is a teacher who works with the kids, both on the horses and on their school work. In addition to riding, they've taught the kids about pitching tents, starting fires without matches, knife safety, and other nature skills.
Styles says that some of his co-workers have come up to the ranch and attended his events. Even though it's in the middle of the city, the ranch is a great get-away for kids and adults alike.
Styles is working to create a non-profit and hopes someday to get his own ranch so he can fully expand and work with many more kids in the community. Currently, Ariat Boots hosts riders on his Instagram page. To check out Styles' website, go here.