Vote NO on 22
August 6, 2020
TEAMSTERS JC7 SAYS NO ON PROP 22

Save your Jobs and Union Work!
In 2020, Union members are the key to protecting our good jobs and fighting Gig Greed. Prop 22 is being bankrolled by billionaire gig companies to destroy good jobs.
What's this about?

Act now to stop the Uber/Lyft Gig agenda, which is:
NO MINIMUM WAGE
NO WORKERS' COMP OR SICK DAYS
NO PAID FAMILY LEAVE
NO UNEMPLOYMENT BENEFITS
NO RIGHT TO ORGANIZE
NO PENSIONS OR HEALTHCARE
Employers are looking to cut costs and replace us with gig work. Defeating Prop 22 protects union jobs—public and private sector. This fight is for all of us.
Teamster Rally: Sat. October 17 • 9 a.m. Zoom event with President Hoffa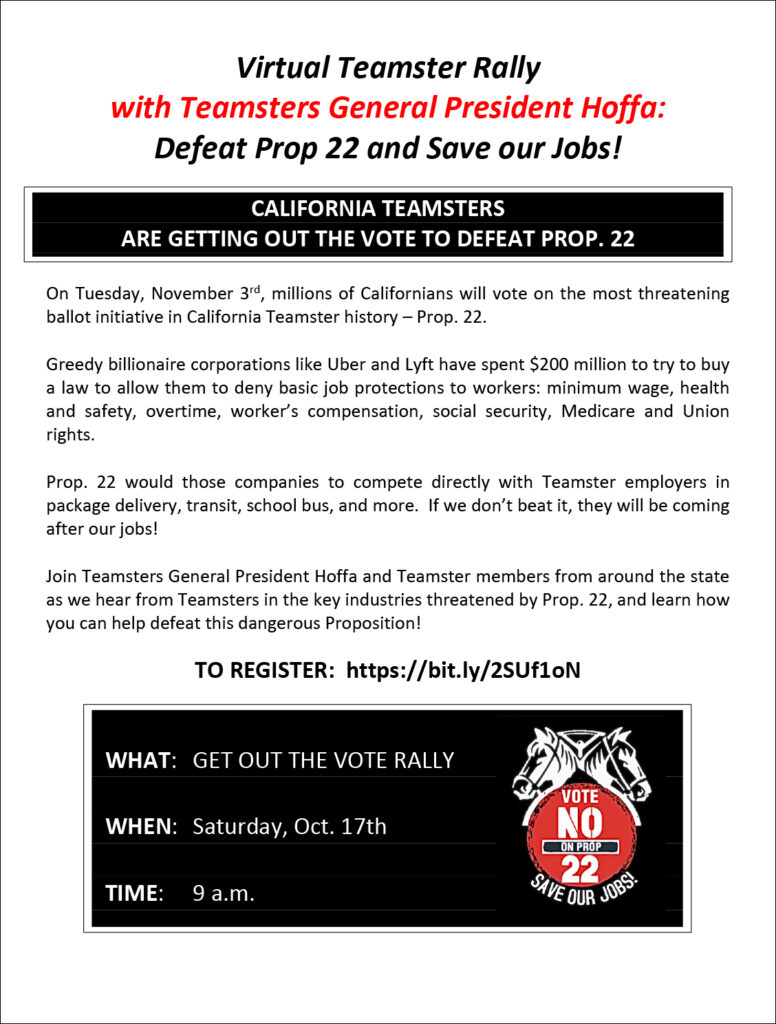 Sign the pledge: CaliforniaLabor.org/sickofgiggreed
For more details on Prop 22: click here:
TEAMSTER/EMPLOYEE VS INDEPENDENT CONTRACTOR