Drivers at UNFI in Gilroy vote to join Teamsters
February 5, 2018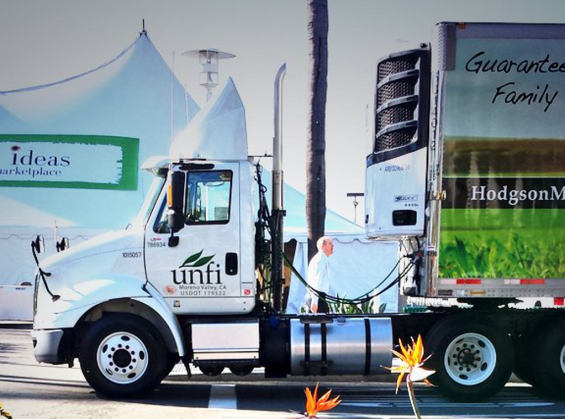 In January, drivers with the largest natural and organic food supplier in the U..S., United Natural Foods, Inc. (UNFI), voted to be represented by Teamsters Local 853 in Oakland. The drivers are seeking fair scheduling and compensation for excess hours, seniority for overtime, improvements to safety and a shorter wage progression, among other gains.
The 31 drivers, based out of Gilroy, transport supplies for UNFI to major clients like Whole Foods, Amazon, Genentech, Sprouts and Google.
"We're excited to welcome UNFI drivers to the Teamsters. There is a trend across the country of UNFI workers joining together and seeking Teamster representation," said Dennis Hart, Secretary-Treasurer of Teamsters Local 853. "As companies become increasingly interconnected, as with Amazon's purchase of Whole Foods, it's important that unions strategically organize and workers unite to better their working conditions."   
Gilroy drivers seeking to organize with Teamsters Local 853 received support and words of encouragement from Teamster UNFI drivers from Dayville, Conn.; Hudson Valley, N.Y.; Moreno Valley, Calif.; and Auburn, Wash.
"This was not a slam-dunk campaign," says Local 853 Business Rep Ray Torres, who campaigned with Trustee Scott Gonsalves and Organizer Steve Bender to counter the lies the members were hearing from the two union busters the company employed. "Having drivers from other locations tell the Gilroy workers about how the union really works really made the difference."
Teamster UNFI members from Local 63 in Covina, Calif., and Local 117 in Tukwila, Wash., traveled to meet with the UNFI workers in Gilroy, to provide support and share their experiences with organizing and forming their union with the Teamsters.
"Our thanks go to all the UNFI workers who reached out to their fellow UNFI workers, and to the Teamsters Warehouse Division Director Steve Vairma for his support and leadership," Hart said.