Amazon Shuttle Drivers Join Teamsters
December 12, 2017
Drivers for Amazon Contractor WeDriveU Join Local 853 via Card Check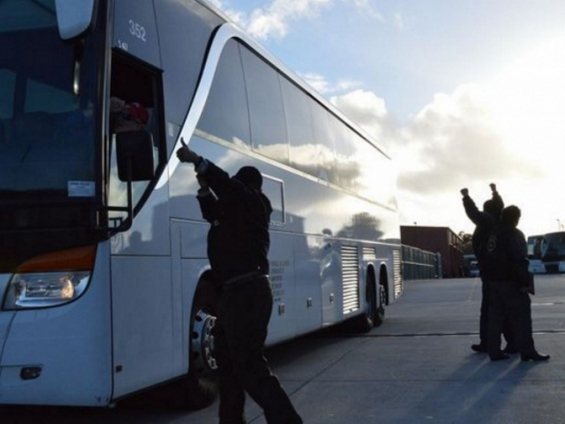 (OAKLAND, Calif.—December 12, 2017) – Commuter shuttle drivers for Amazon chose Teamster representation today via card-check agreement. The approximately 40 drivers are employed by Amazon contractor WeDriveU in Santa Clara and South San Francisco to transport Amazon staff.
"We are the union for high-tech company drivers and we are pleased Amazon drivers chose Teamster representation," said Rome Aloise, Secretary-Treasurer of Teamsters Local 853 and President of Joint Council 7. "Our plan is to level the playing field for tech industry drivers so that they can continue to increase their wages and benefits. No one tech company should have a competitive advantage over another if they're doing it at the expense of workers."
"I'm excited that we are Teamsters now! We've seen the improvements other tech shuttle drivers have made with the Teamsters and we're ready for the same," said Steve Ramsay, a driver for WeDriveU.
Teamsters Local 853 already represents WeDriveU drivers at Salesforce, LinkedIn, Twitter and Facebook.
The WeDriveU workers are the latest group in the tech transportation industry to seek out Teamster representation. More than 1,000 tech commuter shuttle drivers have joined the Teamsters since 2015 at Facebook, Apple, Yahoo and more than a dozen other tech companies. The union has negotiated industry-leading contracts for organized tech industry workers.
Tech industry workers who have joined the Teamsters have negotiated higher wages, better health care and working conditions. Overall, drivers have seen initial pay increases of about 25 percent after joining the union.
The Teamsters Union is part of a growing movement of labor, faith and community-based organizations and workers challenging income inequality in Silicon Valley through an innovative partnership called Silicon Valley Rising. For more information, visit http://siliconvalleyrising.org.
For more information on tech worker organizing with the Teamsters, visit: http://teamster.org/tech-drivers-deserve-union.