Workers deemed "essential" during pandemic need hazard pay
September 22, 2020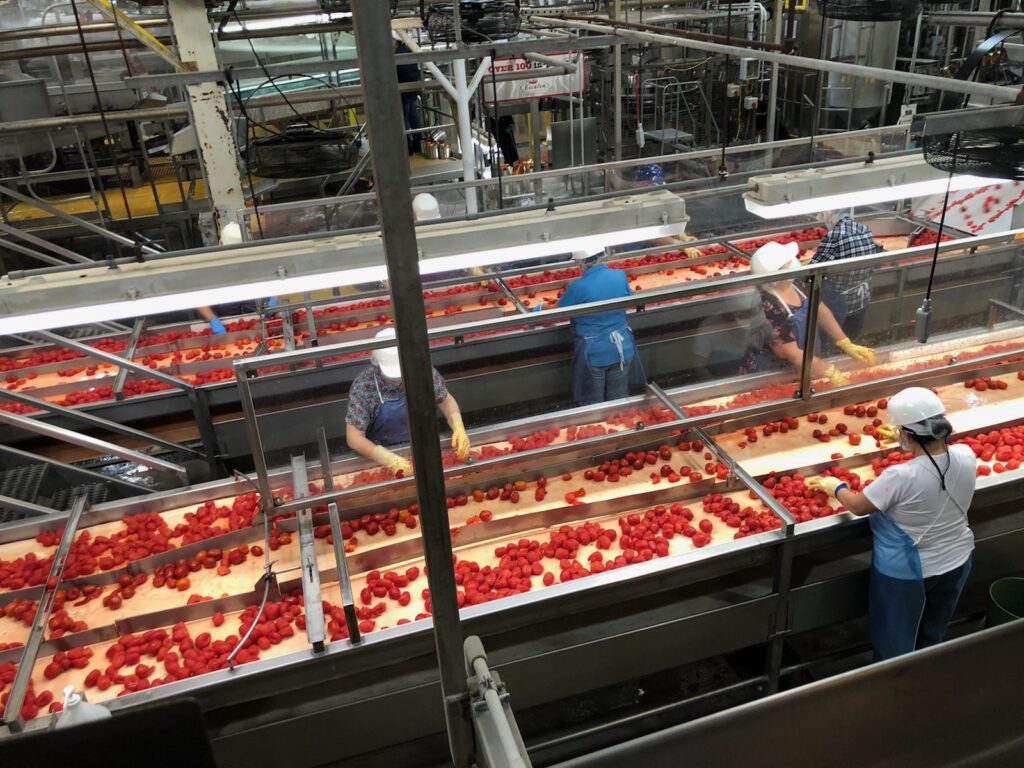 Teamster members processing tomatoes.
Local 856 won hazard pay for more than 3,000 members working in its Food Processing Division during the height of the COVID-19 pandemic—recognizing the workers who have kept the nation's food supply functioning and the inherent dangers they have faced just by reporting to work each day.
Ashley Alvarado, Director of the Local 856 Food Processing Division, said that despite no legal means to require the employer to provide additional compensation, the Local had secured hazard pay for members at Pacific Coast Producers plants in Lodi, Woodland, Oroville, and the Lodi Distribution Center, as well as for Local 856 members working at Kraft Heinz, Diamond, Sunsweet, and Campbell's.
"We continue to advocate relentlessly for the food processing division membership," said Alvarado. "We are in constant talks with employers relating to safety and fair pay during the pandemic. Our members are truly on the frontlines — without them, we would not have food on our table to feed ourselves and our families," she said.
Members in the Local's Food Processing Division work throughout the Central Valley in nearly all aspects of food processing, including the preparation and canning of fruits, vegetables, and other food items and the maintenance of food processing plants.
"We have not only pushed employers to recognize the important work of Teamsters in the food processing industry but also advocated at state and local levels, including the Governor's office," said Peter Finn, Local 856 Secretary-Treasurer and Principal Officer, underscoring the necessity of political action in the advancement of workers' rights.
"Across all industries, this pandemic has made it clear that it is the work of Teamsters that keeps our communities running," Finn continued. "Our members must be compensated for their sacrifices and afforded the safest of working conditions."
In addition to hazard pay, the Local's Food Processing Division has been vigilant in instituting rigorous safety protocols in the plants to inhibit the spread of the virus, including frequent and thorough sanitation of plants and equipment, proper washing facilities, providing hand sanitizer, gloves, and masks, facilitating social distancing in the workplace and breakrooms, and exercising restraint from the usual and customary attendance and production standards.
"I have never been prouder of our members," Alvarado said. "They are reporting to work every day. Without the food they process, we cannot function."