Steward Appreciation Day resumes after pandemic year
December 29, 2021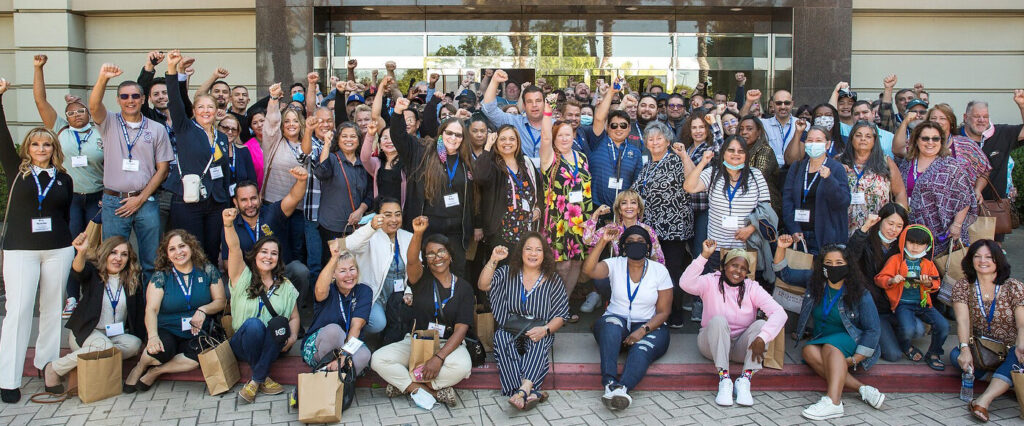 Local 856 stewards appreciate getting appreciated!
On October 2, nearly 200 Local 856 shop stewards gathered at the Westin SFO in Millbrae for the Local's annual shop steward appreciation day.
The event included a retrospective on the past two years showcasing the essential work Local 856 members have performed in nearly every industry throughout the pandemic, including health care, public services, hospitality, airline, and school districts.
"Our steward appreciation day has become a Local 856 tradition, and we are grateful that we were able to resume it this year, after missing the pandemic year," said Local 856 Principal Officer Peter Finn. "It's important to take time out to acknowledge and recognize the invaluable contributions our worksite leaders make year-round. It is truly their work that continues to make our Local successful," he said.
"It was a helpful event to attend," said City of Santa Rosa Shop Steward Sara Roberts. "In the midst of COVID, it was easy to feel the vacuum from not being with our members and each other. It helped to hear that other stewards were facing the same challenges with diligence and we all continued to advocate for our members. It was awesome to get the acknowledgment from our Local's staff and officers," she added.
Former Local 856 member and officer Rudy Gonzalez, who now heads the San Francisco Building Trades Council, guest-emceed the event, and San Francisco Supervisor Matt Haney, the Teamster-endorsed candidate for State Assembly District 17, served as the event's keynote speaker.