Members help Butte County deal with animals after devastating fire
April 3, 2019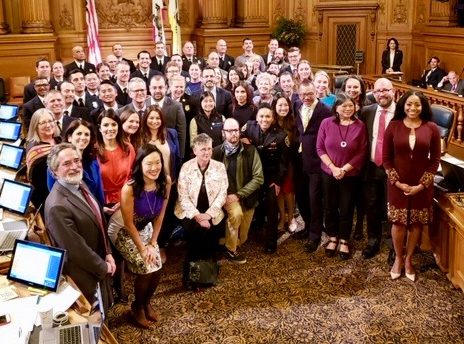 Members at San Francisco Animal Care and Control are recognized by the SF City Council.
Last fall, devastating fires left families centered in Paradise, CA, displaced from their homes and communities with the monumental task of rebuilding. The Camp Fire was dubbed the worst in California history because of the tragic number of lives lost and structures destroyed.
In the midst of it all, pets and other animals were caught up in the confusion and often separated from their owners. To help manage this problem, employees from the City and County of San Francisco's Animal Care & Control department— members of Teamsters 856 —were enlisted to travel north to Butte County to provide their experience and expertise to the emergency situation.
Six animal care attendants (ACA) and two animal control officers (ACO) made the trip, some once and others multiple times, to provide whatever help they could.
James Purcell, an ACA, said that the day before he arrived, there were more than 300 cats and 350 dogs in their temporary shelter. "Over 300 is like nine times more than our normal volume in the Animal Care and Control department," he explained. "But by my second trip, that number had been cut in half."
Peter Flores has been an ACO for 21 years. On a day to day basis, he rescues animals, assists the fire department if an animal is involved in a fire, writes citations, testifies in court, and a lot more.
For 21 years, Peter has been responding to San Francisco emergencies. The Camp Fire was Peter's first time being sent to an emergency situation outside of his normal territory. When he got there, it was nothing like the job he's done for decades.
Throughout his time at the shelter, Peter helped inventory the animals, cleaned cages, unloaded dog cages, walked dogs, and delivered cat food. "I was happy to be there and didn't care what I was asked to do," he said.
For Peter, what really put things in perspective was driving around the town and seeing the FEMA tents set up, and people camped in front of supermarkets because they couldn't go home or their home was no longer there. "Everyone seemed to get along," he said. "I guess there really isn't much to fight about when you've lost everything."
In December, all of the Animal Care and Control employees, police, fire, and medical first responders who assisted with the emergency relief efforts in Butte County were honored for their work by the City and County of San Francisco Board of Supervisors.
"The honor was well-deserved," said Mark Leach, the Teamsters 856 representative who represents the ACAs and ACOs. "These Teamsters got the call and were willing to go above and beyond to assist people and animals who were in the worst possible situation."