Local 856 members help save a life in Millbrae
January 3, 2020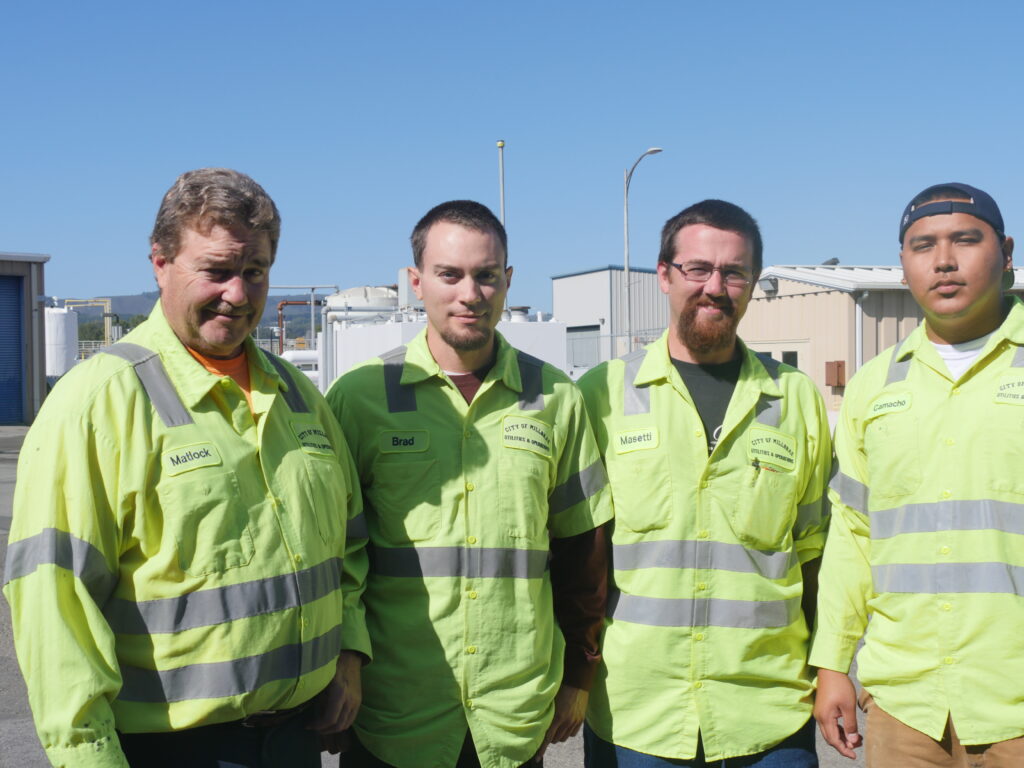 From left: Kevin Matlock, Brad Rosinski, Vince Masetti, and Hector Camacho in the City of Millbrae Public Works Corporation Yard. Not pictured: Evan Ramirez.
August 26, 2019, might have been just another workday for Hector Camacho and his City of Millbrae Public Works co-worker, Evan Ramirez, but an accident at the end of the day made it one to remember.
"We were getting off work and it happened right by the freeway on-ramp," said Hector. Hector and Evan were returning to the Public Works corporation yard with the intention of going home for the day when they saw a car collide with a bicyclist. "We saw it unravel and there was nothing we could do to stop it."
After the accident, Hector, Evan, and their co-workers, Kevin Matlock, Brad Rosinki, and Vince Masetti jumped into a series of actions that lasted less than 20 minutes but saved the bicyclist's life.
"We parked our truck and ran over to see if there was anything we could do," explained Hector. "Once we established that the guy was okay, we set up cones and Evan called Brad over because he is an EMT."
While Brad was keeping the man safe from further injuring his spine, Vince and Kevin arrived on the scene. They were returning to work to end their day as well when they saw their co-workers.
"There was a pool of blood leaking from his arm and leg," said Vince who is also a trained EMT.  "I used gauze and focused on his arm because his leg wasn't bleeding the way his arm was."
And while Brad and Vince tended to the man's injuries, Hector, Kevin, and Evan kept the bicyclist safe from other cars by setting up cones to close off the freeway on-ramp and directing traffic around the accident.
For this group of Teamsters, the actions they took felt like second nature. They are all maintenance workers in the city's Public Works department.
"When there's flooding, accidents, or trees falling down, our job is to respond to those emergencies and fix them," said Kevin. "We don't have badges…but we always respond. We're the ones they call when something needs to get done. We take care of the city and everyone in it."
And on August 26th, this team of guys proved their city can always count on them.
For their quick and heroic action, they each received commendations from the San Mateo County Sheriff's Department and the City of Millbrae at a barbecue luncheon in the corporation yard.
"I'm proud of everybody I work with," explained Kevin. "We operate as a team even in our different divisions. We didn't think of ourselves, but of making sure everyone was safe and that this guy got the right care."
When asked why he jumped into action, Brad summed it up: "It was the right thing to do."