Hospital workers stand strong for a good contract
March 16, 2021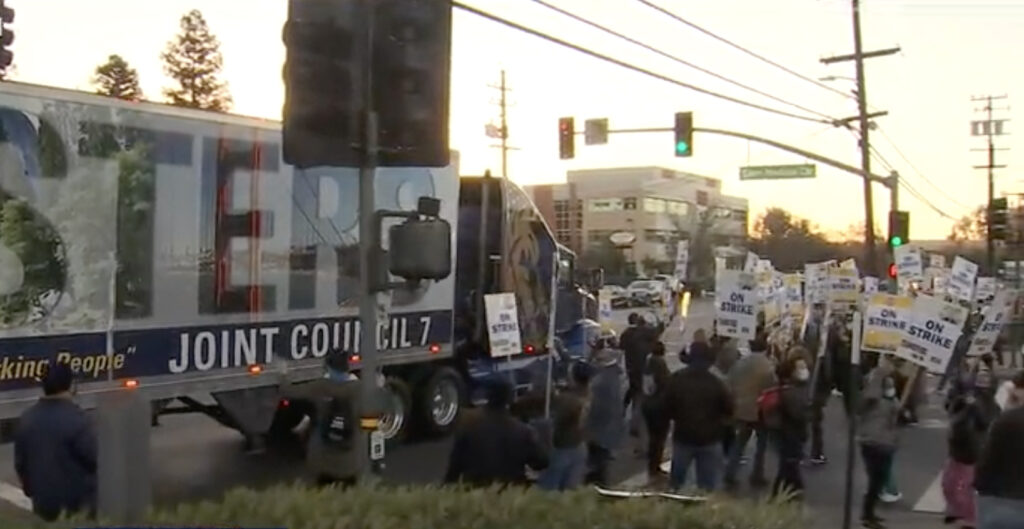 Eden Hospital workers' one-day strike leads to a good contract.
After long contentious negotiations, that included a one-day strike in December, front-line health care Teamsters 856 members at Sutter Health Eden Medical Center (EMC) in Castro Valley have ratified a new contract that increases wages and protects hard-fought contract language.
The 140 Teamsters 856 members at EMC include respiratory therapists, lab techs, imaging techs, and other health care professionals who have been on the front lines of the pandemic since its onset last spring.
"When negotiations began last year, instead of treating our members like the heroes they are, Sutter Eden Medical Center proposed draconian takeaways, including cuts to health benefits, retirement, funeral leave, and more," said Matthew Mullany, lead negotiator.
In addition, Sutter Eden Medical Center's lack of leadership at the upper management level resulted in chronic understaffing and shortages of PPE, which all led to patient care issues. Some workers even had to resort to using 3D printers to make their own PPE not provided by the hospital.
"Our whole department had become much more anxious since COVID-19 hit — it's made our job much more hazardous not only for us but also for our families," said Jennifer Lemke, a respiratory care therapist, and shop steward. "It was devastating to be treated like this by Sutter," Lemke, who has worked at EMC for 33 years, said.
In late fall, EMC Teamsters overwhelmingly rejected their employer's contract offer, authorized a strike, and took to the streets in a demonstration of solidarity and strength.
"As Teamsters, we are willing to fight back when pushed. With the support of the labor community and full backing of local elected officials, Eden Medical Center Teamsters took the fight to Sutter and demonstrated they wouldn't back down," said Local 856 Principal Officer Peter Finn.
As a result, EMC came to its senses and agreed to return to the table and an agreement was secured.
"By standing together with strength and facing down a bully corporation, Eden Medical Center Teamsters won a fair contract that recognizes the hard work front-line Teamsters are doing to fight the pandemic," said Finn.
"With dedication and solidarity we were able to take a stand and send a much-needed message to Sutter," said Shop Steward and Medical Lab Technician Maleah Best. "Our patients are our priority and we continue to fight for them as well as ourselves," she said.