Oakland Zoo keepers vote to join union
December 23, 2022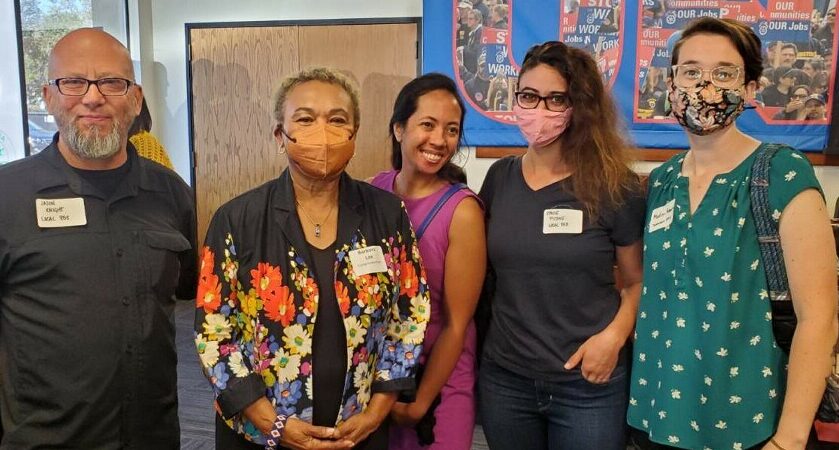 Zookeepers meet with Cong. Barbara Lee (2nd from left). Senior Keeper Jason Knight is at left.
What happens when you have a motivated workforce, a solid organizing team, and connections with local politicians? The workers at the Oakland Zoo just found out when they voted on September 30 by a four-to-one margin to unionize. Teamsters Local 853 is proud to welcome the 55 zookeepers at the Oakland Zoo and looks forward to negotiating their first union contract.
"These workers demonstrated tremendous courage so they can get a contract that addresses the issues they care about – respect, wages that reflect the cost of living, guaranteeing a high quality of life for the animals and their habitats, and a voice on the job," said Pablo Barrera, Local 853 Organizing Director.
"It was an incredible experience," Barrera adds. "These workers were knowledgeable and motivated, especially as they had to contend with a union buster that zoo management brought in."
As the zoo's Senior Keeper, Jason Knight stays late to put animals to bed and do nighttime feedings. He couldn't be more proud of the union drive. "The process of coming together, deciding to join the Teamsters, and winning the election with such amazing numbers has brought us all together. We look forward to moving into the future as a group," he said adding, "One thing that unifies us is that we all love the Oakland Zoo. The movement has been an act of love for the zoo and for each other. It's been an incredibly positive experience all around."
Getting the support of local politicians was key to the drive's success. In addition to Oakland city council member Treva Reid and Mayor Libby Schaaf, several zookeepers had an opportunity to meet with Congress member Barbara Lee who was visiting the Local 853 building. These elected officials did not hesitate to contact zoo management to demand they dump the union buster and do the right thing for their workers.
As the group heads into negotiations, the union and workers say they were instrumental in helping pass Measure Y, an Oakland referendum to increase funding to the Oakland Zoo. "This bill will enhance educational opportunities, and elevate the standard of living for animals, expanding conservation work and increasing access to the institution for the city's residents," explained Barrera. "The union will make sure that the zoo's increased budgets are shared among the zookeepers," he added.