Driving COVID
July 4, 2020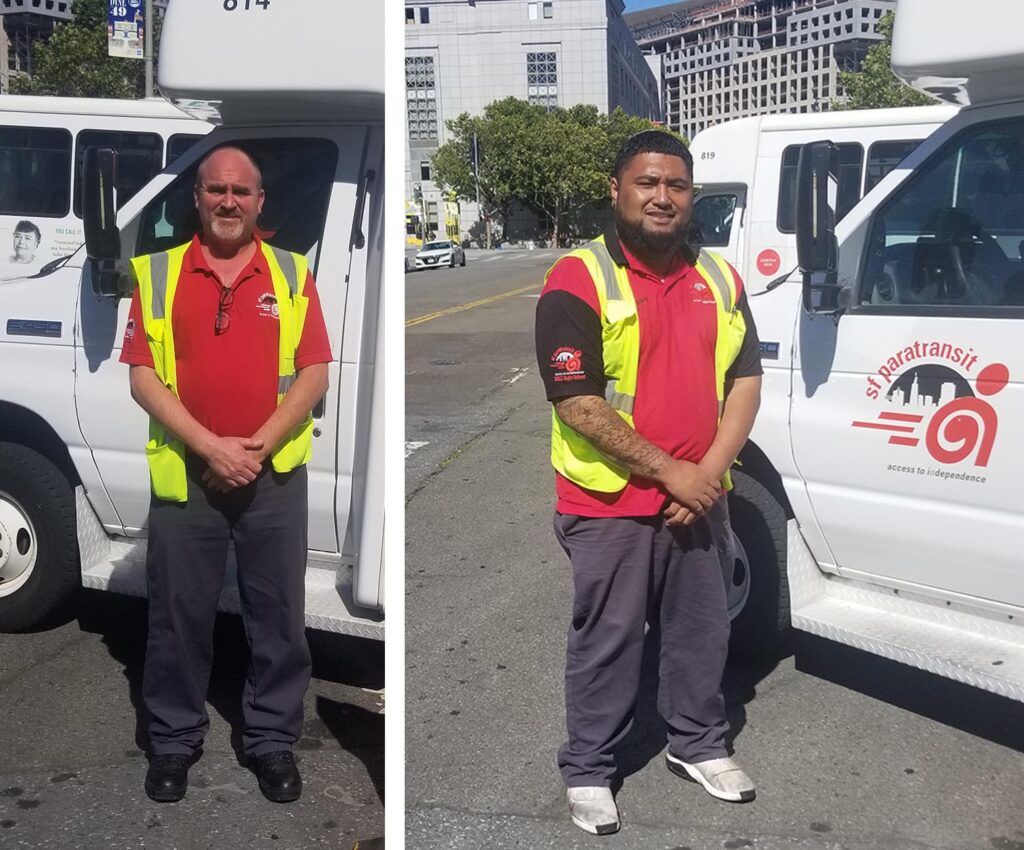 Chuck Paschal (L) and Tago MacManus (R) are proud to drive COVID and homeless people for testing, quarantine and shelter.
When you think of "paratransit," perhaps you envision a service that takes seniors and the disabled to day centers and medical appointments. That may be the mainstay, but paratransit does more than that. At least it did before the pandemic hit, and ended most of that business.
Some drivers at SF Paratransit, a TransDev company, were laid off in late February. That changed in early April when the city realized they could use paratransit services and put the drivers to work as "COVID" drivers.
Chuck Paschal has worked for SF Paratransit for more than five years and is a steward for Local 853. He says that 95% of the time, he's driving people on COVID runs. These could be taking the homeless to shelter in place, taking nurses to testing locations, or taking positive individuals to quarantine sites.
"At first I was a little scared, but the vehicles are limited to 50% capacity. Everyone wears masks and gloves and there's a big plastic partition completely separating the drivers from the riders. And then the vans are thoroughly cleaned and sanitized after rounds and at the end of each day," he explains. "We just drive and operate the lifts. You have a better chance of getting it at a grocery store than from what we're doing."
"As a paratransit driver, I'd always ask passengers how their day was going. Recently, I asked a woman that I took to a testing site," he recalls. "When I got her back home, I told her not to worry…that she'd be fine. She said 'thanks to people like you,' That felt good."
Tago MacManus, also a steward, has worked at SF Paratransit for four years, where he mostly drove seniors to senior centers in the mornings and picked them up in the afternoons. These days, he's picking up homeless folks in the Tenderloin and getting them housed in hotels or shelters. "We started with COVID people, getting them to testing or quarantine. But in the last few weeks, it's been all homeless people."
Tago says that people really appreciate the rides and that it's been great to see the city really helping the homeless during the pandemic times right now. "As a Samoan, my background is all about family. Last week, I picked up a homeless family with a toddler on Eddy and Turk. It was sad to see but made me happy that I could give a hand to these people who need help. They're thankful to get sheltered."