Third strike's the charm: Contract finally reached for transit workers
December 29, 2021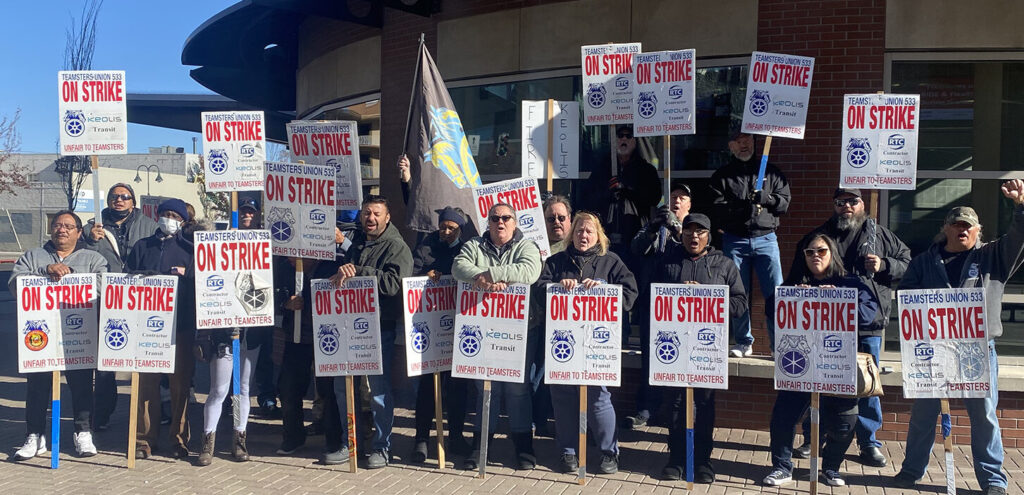 Local 533 members on their third strike against Keolis, the contractor for Reno-Sparks-Washoe transit
On December 2, Local 533 members employed by Keolis Transit for the Reno-Sparks-Washoe transit agency ratified a new contract agreement. Getting there took three unfair labor practice strikes and 60 days on picket lines, beginning with the Hot August Strike, winding through Striketober and into December.
"This new deal will eliminate the need for further 'repetitive and harmful strikes' caused by Keolis," says Local 533 President Gary Watson. "From day one, this has always been about the safety of our members and riders and improving working conditions in our profession."
"In addition to pay raises over the next three years totaling 14.2 percent, we won hourly pension increases across the board," Watson added. "Keolis' 'last-best-final' wage offer, which had led to the most recent strike, was four percent per year, well below the rate of inflation."
The hourly retirement contribution rate under the contract will increase to $2.50 immediately, then rises to $2.60 in 2022 and $3.10 in 2023, standing well above the company's previous final offer.
"We accepted a $1,000 per person signing bonus, which is about 30 percent more than retroactive pay back to July 1," Watson said.
COVID-19 safety remains a burning issue. More than two dozen drivers and support workers and countless passengers were infected by the company's intentionally lax protection. Two drivers had been admitted to intensive care units.
"We still have all of our safety language and federal/state mandate language in the new contract, mandates that Keolis has consistently ignored—including writing up drivers for disciplinary action should they ask maskless passengers to comply," Watson said."We are awaiting an arbitration decision on our mask case any day now," he added.
"Everything is resolved except more than 50 labor charges and 45 arbitrations," Watson noted.
"Our public transit workers, who fought to protect and support this community throughout the worst of the pandemic, are deeply grateful to the community for their patience, understanding, compassion and overwhelming support," said Teamsters Local 533 Secretary-Treasurer Debbie Calkins. "Progress would not have happened without them. Most of all, we thank our members for holding strong," she added.
"We still have many unresolved disputes but remain hopeful that we can reach a resolution," said shop steward and longtime transit system technician Eric Martelle.