Ten-day strike for health care
September 27, 2021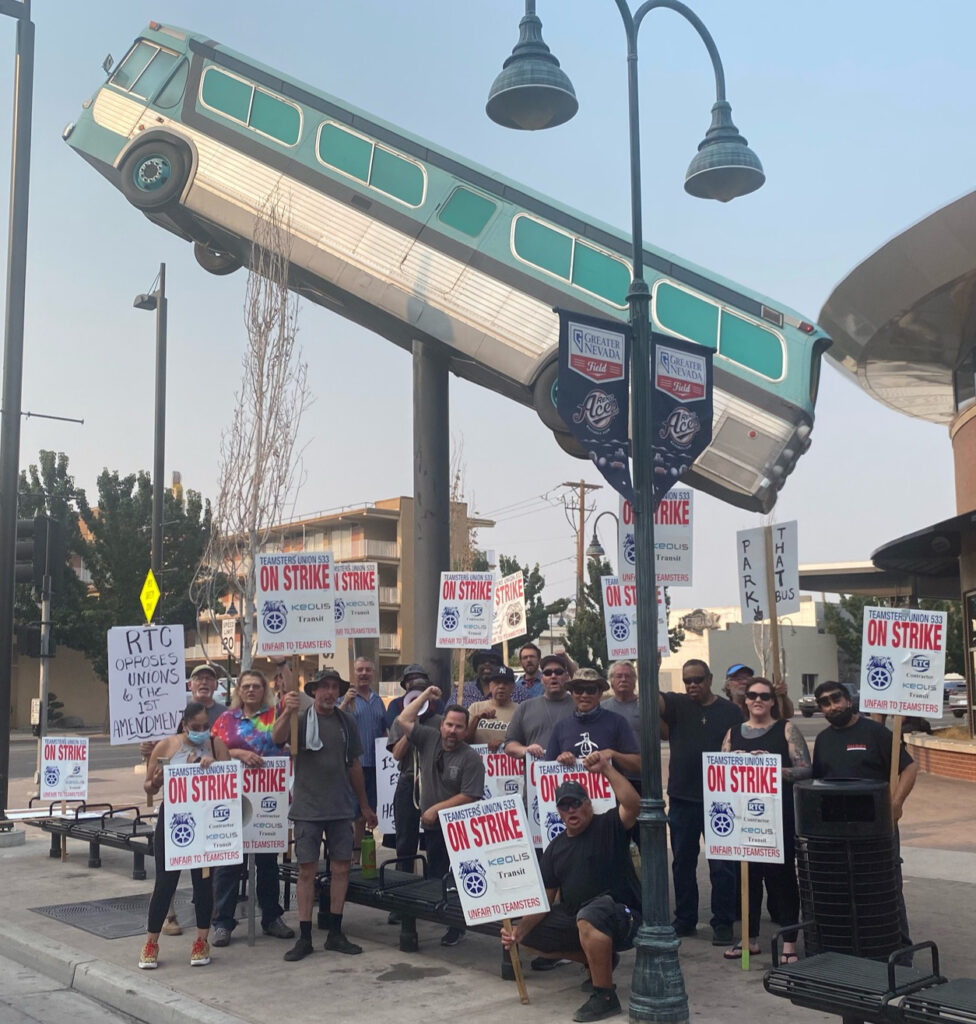 The fixed-route transit members of Teamsters Local 533 stood strong for ten days on an unfair labor practices strike that lasted from August 3-12, in Reno, Nevada. The members were on strike for the right to maintain their healthcare that is ever so valuable during a global pandemic.
The Regional Transportation Commission of Washoe County (RTC Washoe), and its contractor Keolis Transit, the 70% French government-owned company that operates the bus services in Reno/Sparks and Washoe County, have levied anti-union attacks on the Local 533 membership since taking over the bus contract from MV Transportation in July 2019. Local 533 represents roughly 200 coach operators, dispatchers, technicians, road supervisors, and utility workers in a contract that's been in effect for roughly 40 years.
"We have 45 pending arbitrations against this company, most of which the company either refuses to arbitrate, threatens arbitrators, or refuses to comply with an arbitrator's decision," says Local 533 President Gary Watson. Two favorable decisions were awarded in September with full back pay and benefits to both the members who had been off of work for around 20 months. More than 40 pending ULP charges remain, 17 of which have been consolidated and will be heard at a trial slated to begin at the end of September. Keolis also has three pending lawsuits, two filed by Local 533 and one filed by the Northern California General Teamsters Security Trust (NCGTSF Delta Health) pending in federal courts.
"The fight for a new collective bargaining agreement is far from over," Watson adds. "The strike successfully ended when the company tentatively agreed to our healthcare proposal, but they have many more poison pill proposals still on the table. Our membership showed courage and dedication on the picket line, while educating the public and transit passengers about their struggle to maintain their healthcare. We have much more work to do; our membership is alert and ready to mobilize another strike if Keolis continues to provoke them by bargaining in bad faith."
"On behalf of the Local 533 membership, I would like to personally thank the Locals in Joint Council 7 and around the country who provided financial support to the membership through the ULAN assistance fund," said Local 533 Secretary-Treasurer Debbie Calkins.