UC Teamsters are speaking out!
June 29, 2022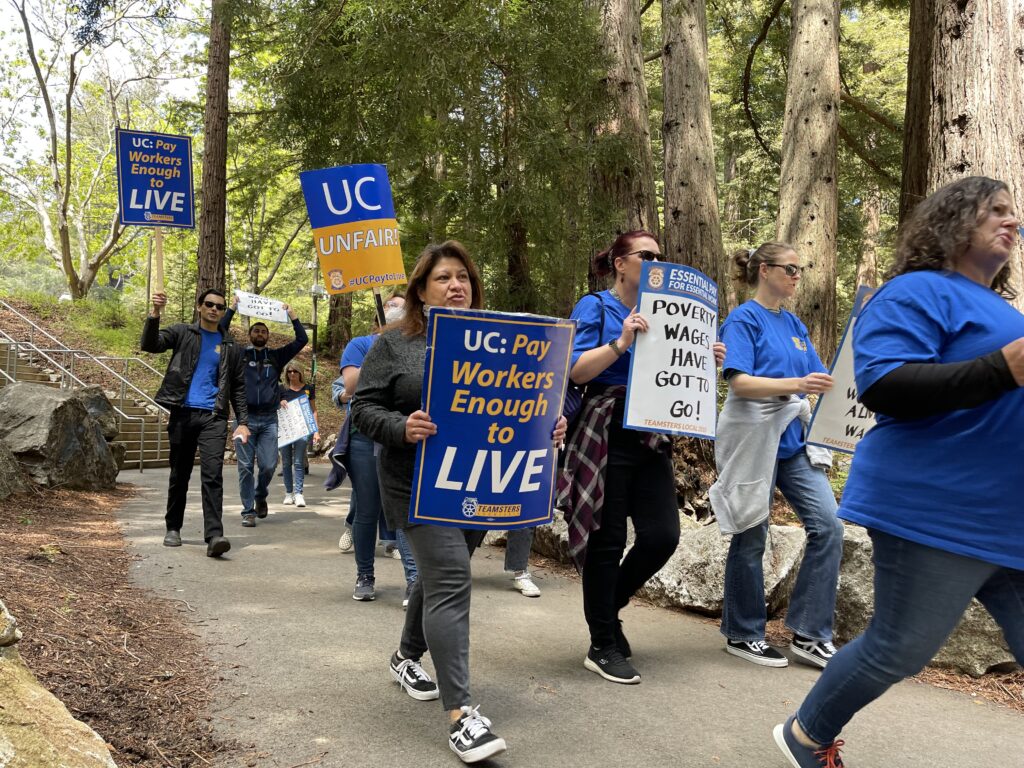 UC Santa Cruz members picketed on Administrative Professionals Day in April.
Local 2010's Bargaining Team continues to meet with the University of California to negotiate a successor agreement for the CX Unit, which has been extended by mutual agreement through June 2022. While there are still many member rights articles pending, the union Bargaining Team made a wage proposal to the UC team on May 19.
Jamal Colter, Bargaining Team member from UC San Francisco, addressed the UC Board of Regents about the high cost of living and workers' salaries not keeping up. "What's fair is fair and what's right is right," he told UC President Michael Drake. Sadly, none of the UC Chancellors were present during the public comment period.
Teamsters throughout California have shown their support of our Bargaining Team and that we will do what it takes to get fair pay and benefits by participating in pickets and rallies at every UC campus. Members at UC Berkeley and UC Santa Cruz held pickets on Administrative Professionals Day since CX Unit members are clerical and administrative professionals. At UCSF, members rallied outside of the Board of Regents when they met there and members spoke during the public comment session. UC Davis members had a booth at their University's "Thank Goodness for Staff" event, where they called on UCD to pay their workers enough to eat healthy.
"The UC can more than afford to be fair to workers," said Local 2010 Secretary-Treasurer Jason Rabinowitz. "There's no UC hospitals without workers. There's no UC brand without workers. The UC is considered one of the best schools in the world because of its workers. It's time for the UC to step up and be fair to the workers it depends on!"
The CX Unit Bargaining Team also continues to fight for bilingual pay for members who use their diverse bilingual skills to provide services to the UC community. On May 5, members wore stickers and displayed desk tents as the union presented the results of a member survey on bilingual services. Currently, members are following UC guidance and referring translation needs to their local interpreter hotline in order to show UC that members will not volunteer their services and skills and UC should pay them in line with industry standards.