Teamsters converge on Sacramento to protect jobs, safety from robot trucks
September 27, 2023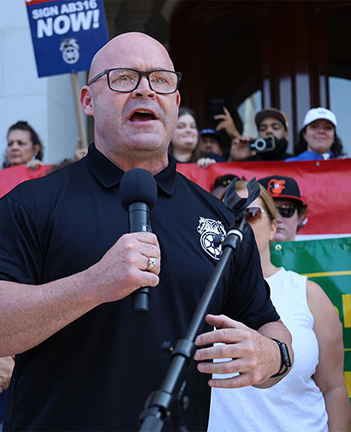 President Sean M. O'Brien joins as Teamsters trucks caravan across CA, lead march to Capitol to demand Governor sign AB 316
SACRAMENTO – Over 1,500 workers from throughout California joined a caravan of Teamsters big rigs – driven by career human drivers with clean safety records – from Sutter Health Park in Sacramento to the west steps of the Capitol on Sept. 19 to demand that Gov. Newsom sign California Assembly Bill 316 (AB 316).
This Teamster-supported legislation, which would require a trained human operator in autonomous vehicles weighing over 10,000 pounds, overwhelmingly passed the California Senate Sept. 11 with strong bipartisan support.
Just before press time, Gov. Newsom chose the side of big tech and vetoed AB 316. Teamsters condemned the veto and vowed to continue our fight to protect our jobs and safety from robot vehicles.
In Sacramento, supporters of the legislation were energized by the words of Teamsters General President Sean M. O'Brien, who led the caravan to the Capitol behind the wheel of the Joint Council 7 18-wheeler. General Secretary-Treasurer Fred Zuckerman was next driving the Joint Council 42 big rig. Both O'Brien and Zuckerman were professional drivers before moving into their respective Union careers.
"If Gov. Newsom is confused or conflicted about the decision he has to make, we need to make certain that he understands that not only does he have an obligation to the constituents of California, but he also has an obligation to working people nationwide," said Teamsters General President Sean M. O'Brien. "If he chooses to not do the right thing, he is sending a message to not only California, but also to every state in this country that technology should overrule middle class jobs."
Teamsters Joint Council 7 President Jason Rabinowitz said, "This bill has the overwhelming bipartisan support of the public and the Legislature because it will protect our safety and jobs from dangerous robot trucks. We call on Gov. Newsom to stand with workers and our communities, not the greedy tech companies, and sign AB 316 now!"
A new public poll shows that nearly three-fourths of Californians across party lines, gender, geography, and all other demographics support AB 316, which would help keep California roads safe and protect good-paying jobs. The poll also highlights that an overwhelming number of Californians are uncomfortable being on the road alongside driverless vehicles. The Governor's Office of Business and Economic Development recently voiced opposition to AB 316 via an agency letter, indicating that top officials in the Newsom administration aren't listening to the concerns of California voters.
The Sacramento rally, as well as the kickoff rally in Los Angeles on Sept. 18, showed that thousands of labor allies, elected officials, and California public safety officials are in support of AB 316.
Speaking in support of passage of AB 316 at the Los Angeles kickoff rally were professional Teamsters drivers, Senator Anthony Portantino; Assemblymember Tom Lackey; Frank Lima, General Secretary-Treasurer of the International Association of Firefighters; Chris Griswold, President of Teamsters Joint Council 42; Lindsay Dougherty, IBT Western Region VP and Secretary-Treasurer of Teamsters Local 399; and representatives from the Screen Actors Guild and the Writers Guild of America.
In addition to General President O'Brien, Sacramento speakers included JC7 President Rabinowitz; Assemblymember Cecilia Aguiar-Curry; Peter Finn, IBT Western Regional VP and Secretary-Treasurer of Teamsters Local 856; Lorena Gonzalez, Executive Director of the California Labor Federation; Mike Di Bene, a solid waste heavy hauler and member of Teamsters Local 70; and a coalition of labor leaders: Brian Rice, President of the Calif. Labor Federation, Tia Orr, SEIU State Council Executive Director, Dan Reding, Business Manager of Operating Engineers Local 3, and Bonnie Castillo, California Nurses Association.
"And you ask, 'Why are big corporations rushing to put this risky technology on the streets before it's safe?' It's one simple reason—it's greed," said IBT Western Regional VP Peter Finn. "These big corporations want to use AV technology for one reason only and that's to eliminate jobs."
Watch the Sept. 19 rally here: https://bit.ly/3Rt7mO6
View the photo and video gallery here: https://flic.kr/s/aHBqjAUTMv