Teamsters and Allies Protest Unsafe Robotaxis at Cruise Headquarters 
October 25, 2023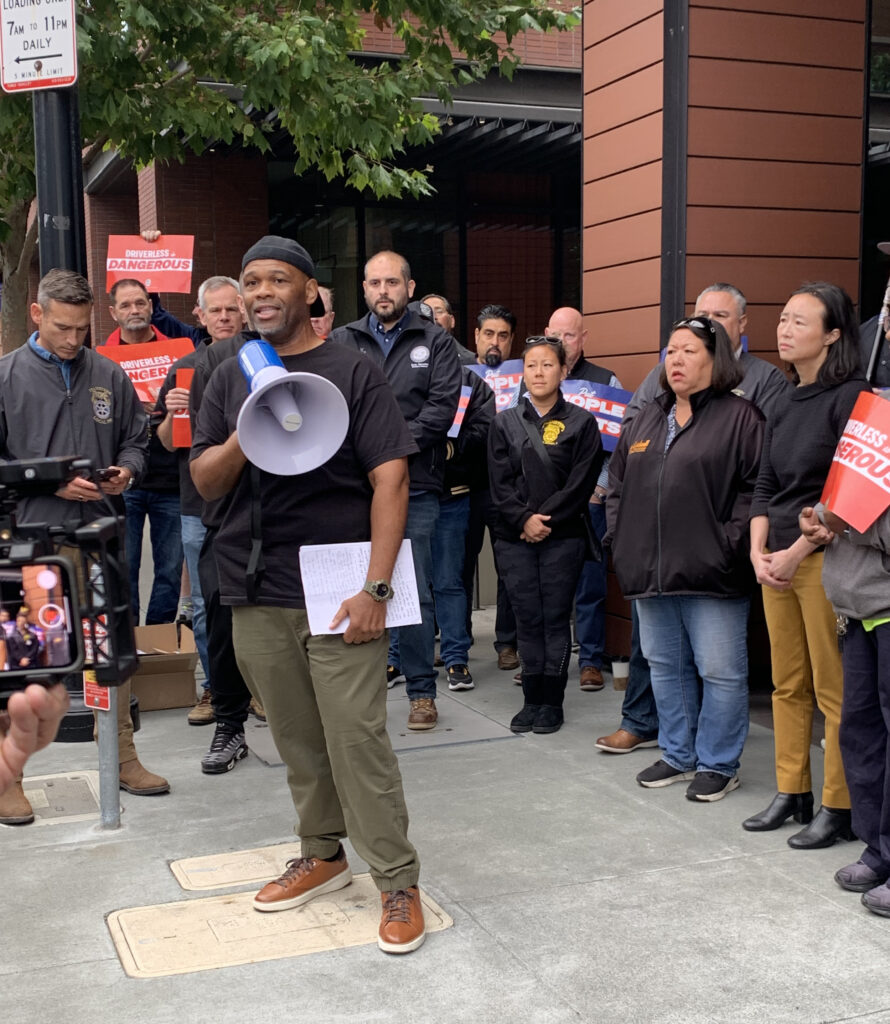 Teamsters Stand Up for Safety, Call for an End to Driverless Car Havoc on San Francisco Streets
SAN FRANCISCO, Calif – The Teamsters, labor leaders, public safety officials, and concerned citizens held a rally today outside of Cruise's headquarters in San Francisco to highlight ongoing safety concerns with Cruise robotaxis. The rally occurred as Cruise's parent company, General Motors, released its Q3 2023 earnings report, revealing that Cruise has cost the company $1.9 billion so far this year. The earnings reflect the investment General Motors is making to turn Cruise into a profitable operation, all while the company forces Cruise robotaxis onto public roads before they're safe.
"The state has to do something about this – San Francisco cannot be the guinea pigs for autonomous vehicles," said Tony Delorio, Principal Officer of Teamsters Local 665. "Months ago, when the CPUC let robotaxis run rampant on our streets, it only took a few days for the DMV to roll them back by 50% because of safety incidents. We're not going to stop until they're 100% off our streets. We're here to tell Cruise and Governor Newsom that we're not going to allow them to put profits over people."
"These companies talk about the public being safer with their cars on the road, but the reality is they've made living and working in San Francisco even harder," said John Bouchard, Principal Officer of Teamsters Local 350. "There's more congestion, traffic is worse, public safety is worse, and they're making it difficult for firefighters and police to respond to emergencies."
Tuesday's rally comes just one week after the National Highway Traffic Safety Administration (NHTSA) launched a safety investigation into Cruise following numerous incidents in San Francisco involving the company's self-driving cars. The incidents under investigation include two recent accidents that left victims with injuries requiring care at a hospital. Less than three hours after the rally, the California Department of Motor Vehicles suspended Cruise's license to operate in the City of San Francisco.
"We cannot have fake brains and fake intelligence on our streets," said Supervisor Shamann Walton of District 10. "These Cruise vehicles are dangerous on our streets. We cannot continue to have tragedies at the hands of machines. We're going to fight Cruise and all autonomous vehicle companies until we have responsible human beings behind the wheel so our residents are safe in San Francisco."
"We're here to remind our Governor where he came from – because so goes San Francisco, so goes California," said Supervisor Connie Chan of District 1. "In San Francisco, we will utilize every legislative tool possible to tell Cruise and all these companies that they are dangerous. We want them to put people over robots. At the end of the day, we're fighting for humanity and fighting for people."
Speakers at today's rally called out a multitude of safety incidents caused by robotaxis in San Francisco in recent months. Cruise robotaxis have collided with fire trucks and were implicated in the death of a pedestrian after blocking an ambulance that was transporting a patient to the hospital. The self-driving cars have also impeded union members on the job by getting stuck in concrete and blocking waste trucks.
In spite of its abysmal safety record, Cruise took out a full-page ad in the New York Times suggesting their vehicles are safer by claiming that "humans are terrible drivers." Cruise CEO Kyle Vogt also advocated for banning human drivers in cities. The company is now asking the NHTSA to exempt its Origin model – which is completely inoperable by a human driver – from federal motor vehicle safety standards.
"This is an experiment by Cruise that has failed," said Adam Wood, Secretary of the San Francisco Fire Fighters Local 798. "Despite what they've said about responding to the concerns of first responders and emergency responders, we've seen no changes. We're going to make sure our message gets out to every emergency responder where Cruise tries to carry out this failed experiment. We need to put safety and jobs first."
"Companies like Waymo and Cruise are out to decimate public services," said Rudy Gonzalez, Secretary-Treasurer of the San Francisco Building and Construction Trades Council. "They're already jeopardizing public safety, and it's clear they're out to replace public transit. You can't code for human instinct, and you can code for morality. We have to take a stand for humans and take a stand for good jobs."
"San Francisco has always been about its working people," said Kim Tavaglione, Executive Director of the San Francisco Labor Council. "Working families deserve a place in this city, and AI and these Cruise robotaxis threaten the very fabric of what San Francisco is, has been, and always will be. These Cruise robotaxis threaten the safety of working people and children. Safety comes first, and we know these cars are not safe. We cannot let these AI companies ruin our city."
Founded in 1903, the International Brotherhood of Teamsters represents 1.2 million hardworking people in the U.S., Canada, and Puerto Rico. Visit Teamster.org for more information. Follow us on Twitter @Teamsters and "like" us on Facebook at Facebook.com/teamsters.