Time to vote for Teamster leadership
September 22, 2021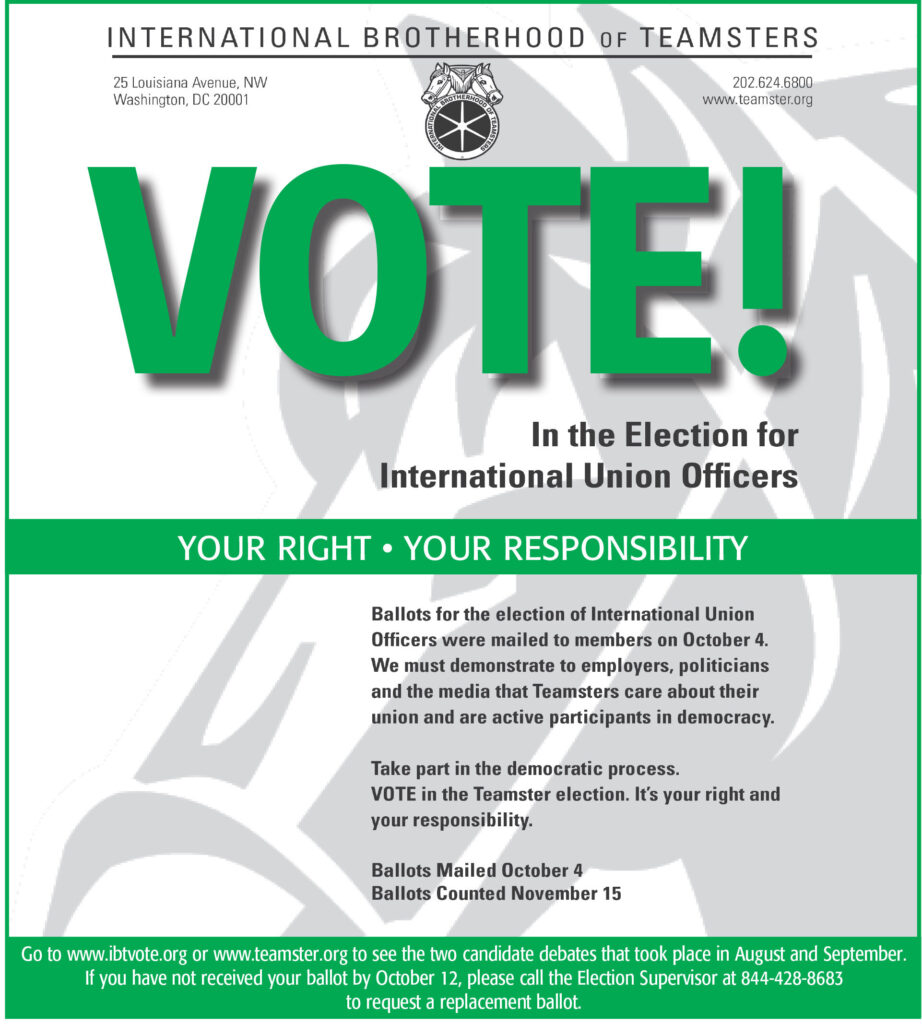 Members have opportunity to determine the future of the union
You hear it every time there's an election — "this one is the most important in your lifetime." In this case, the election for the leadership of the Teamsters Union may be the most important in your Teamster career.
After two decades in power, IBT President James P. Hoffa, Jr. will not be running for reelection and there is a real contest for who will succeed him. The two candidate slates offer very different visions for the future of the union. Our union is one of the few major unions that enable the rank and file to directly elect their top officers, so it is up to the members—that means it's up to YOU—to decide.
This paper can't tell you who to vote for, but we can refer you to the IBTvote.org website and the Teamster magazine to look up the promo materials of the two candidate slates.
Here are some details to ensure that your ballot is completed correctly:
To be eligible to vote, member dues must be paid through October, 2021.
Ballots will be mailed from the east coast on October 4. They must be received by 9 a.m. on November 15 to be counted. You will be given a stamped envelope to return your ballot for free.
You will vote for no more than one General President, General Secretary-Treasurer, seven At-Large Vice Presidents, three International Trustees, and four Western Regional Vice Presidents.
You may vote for a full slate or for individual candidates.
Use a black or blue pen to completely fill in the oval to the left of the slate or candidate of your choice.
If you make a mistake, do not cross out; instead, request a new ballot.
If you have any questions about this election process, if you have recently moved, if you need a replacement ballot or if you need any ballot materials, request assistance immediately by calling 1-844-428-8683.
Voting in the International officer election tells anti-labor politicians and employers that our membership is active and involved in our union. Voter participation in this election makes our union stronger.
The only thing voting will cost you is the time it takes to learn about the issues and the ink it takes to mark the ballot. Not voting will cost so much more. When we don't vote, we send a message to employers, politicians and the public that Teamster members don't value democracy. Let's show our strength. Vote in the election of international union officers. It's your right and your responsibility.