Teamsters help lead union upsurge!
January 6, 2023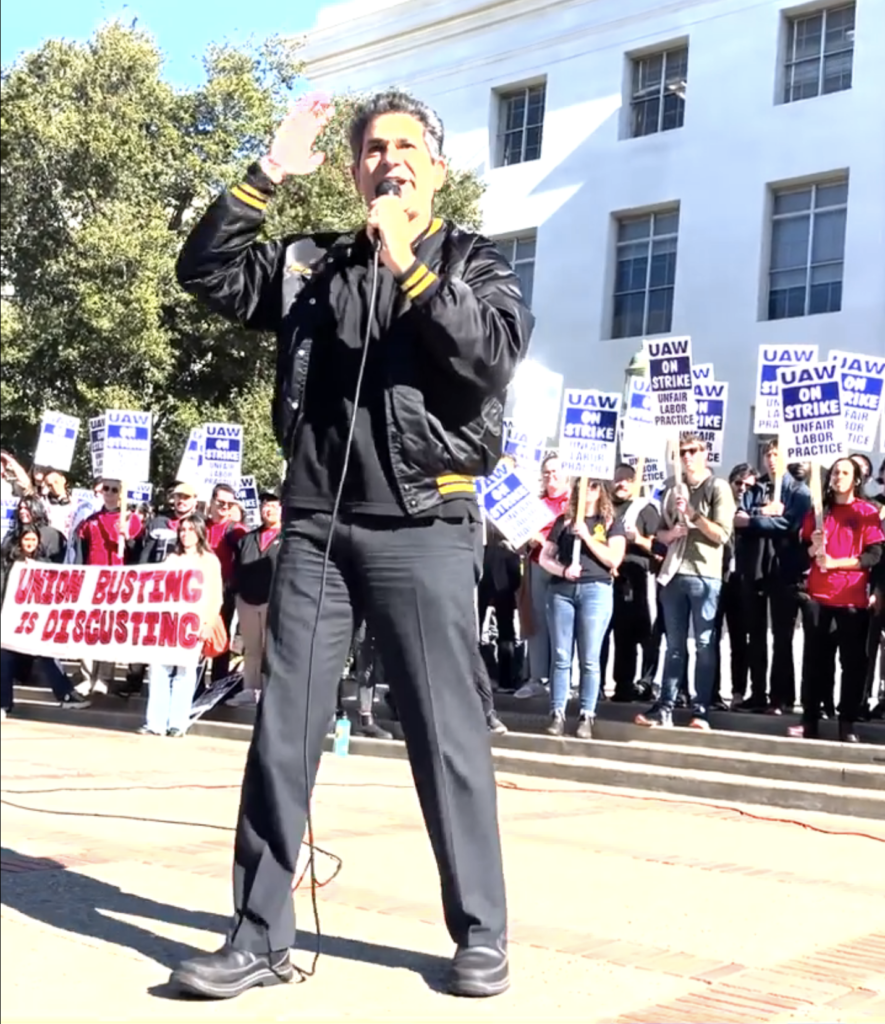 JC7 President Jason Rabinowitz brings Teamster solidarity to UC Berekeley at the launch of the largest academic strike in history.
When Teamsters stand in solidarity with another union's strike or picket, we make a huge difference. We're America's strongest union because our 1.2 million members do the work that keeps our country moving, and we wield that power to win fair treatment for our members and all working people. When we stand together and take action as Teamsters, we've got the power to stop deliveries, waste pickups, and all manner of transportation, until justice is served. When our Teamster truck rolls up on a picket line or rally, it symbolizes the unmatched strength of the Teamsters Union.
On November 14, when 48,000 University of California academic workers represented by United Auto Workers walked off their jobs statewide to demand a living wage, the San Francisco Chronicle began its coverage by talking about how important it was that Joint Council 7 President Jason Rabinowitz had donned his black satin Teamster jacket and promised Teamster solidarity—a show of unity from blue-collar to white-collar workers. "You're showing unparalleled strength, and I want to tell you the Teamsters have sanctioned your strike," he told the crowd, which "roared in response."
That President Rabinowitz turned up at that rally was no surprise. Teamsters will always be there to support working people in struggle. The surprise, at least to some who had predicted the demise of labor, is that 2022 was a year of enormous upsurge in union activity, marked by unparalleled organizing, significant strikes, and record contracts. Support for unions is now at 71%, its highest in more than 60 years. And the Teamsters Union has been at the forefront of this historic trend.
Organizing and strike resurgence
Workers are organizing at Amazon warehouses, Starbucks coffee shops, and Apple stores. There have been winning drives at Trader Joe's, REI, and at Activision Blizzard.
Teamsters Joint Council 7 has also won its share of organizing victories as well. In the past few months alone, more than 600 workers at the Oakland Zoo (Local 853), GreenWaste of Palo Alto (Local 350), and Butte County (Local 137) have all voted to become Teamsters. Additionally, cannabis workers at Flora Terra and Spin Scooter workers in Berkeley joined Local 665 over the summer.
Along with the increase in organizing, workers have been more willing to take their fights to the streets. According to Cornell University's School of Industrial and Labor Relations, as of December 1, there have been 374 strikes in 2022—a 39 percent increase over 2021—from the bakers at Kelloggs and Nabisco to teachers, nurses, mental health workers, fast food workers, and the workers at the New York Times. Cornell counts 78,000 workers who walked off the job in the first half of this year—nearly three times the 26,500 who struck in the first six months of 2021.
The good news that resulted from the largest academic strike in history at the University of California is that after years of working for poverty wages, workers won a contract with raises of up to 66% over three years. The better news is that this strike is an inspiration to the academic workers at hundreds of public and private universities who have been struggling for years.
What do many of these actions have in common? They're being launched by young people. An unprecedented share of election requests to the NLRB are coming from college students and graduate employees at private universities, museums, think tanks, nonprofits, and groups of young workers at retail establishments such as Starbucks. Unions are more popular among young people than any other age group, which bodes well for the future of our movement.
Winning the best contracts
The challenge of actually being able to negotiate a good contract remains, but even in that department, change may be afoot. After nine years during which its budget had not increased by even a penny, the National Labor Relations Board has finally secured an increase in the 2023 funding bill. While the agency won't be fully funded by any means, they also won't be compelled to furlough staff and should be able to make some badly-needed hires in the coming year. That should help ensure that the Labor Board can be more responsive to promoting fair union elections, combatting union busting and negotiation-delaying tactics that have become the norm, inhibiting workers who vote for union representation from actually getting it.
And as we see throughout this issue, our Teamster Locals are winning the best contracts ever in a variety of industries. From Local 2010's members at the University of California, to Local 856's West Contra Costa Unified School District members, to Local 665's recycling and solid waste members at Recology of Sonoma, and Local 439's plant workers at the University of the Pacific—these members have won their largest increases in decades—if not ever.
"Teamsters are gearing up for even bigger battles in 2023, especially our fight to win a fair contract at UPS," Rabinowitz said. "We are standing together as Teamsters, ready to do whatever it takes, and we will surely win."