Labor roars back to the Capitol
May 25, 2022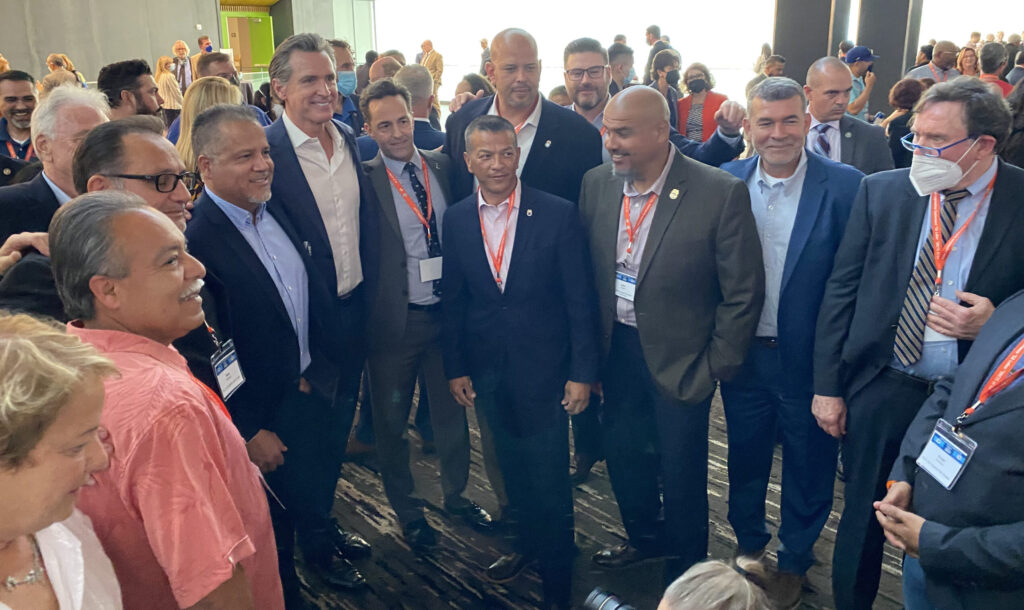 Governor Newsom joins a large group of Teamsters.
In its first legislative conference since 2019, the California Labor Federation and State Building Trades Council brought back hundreds of union members to Sacramento on May 16 and 17 to promote labor's legislative agenda. Joint Council 7 was there in force.
Every attendee had to take an on-site COVID test to gain admittance. Due to lines and the mandatory 15-minute wait time, many attendees (including this writer) missed several of the morning speeches. It was great to get inside the meeting hall to hear Senate Pro-Tempore Toni Adkins say: "Labor's values are California's values. The best way to improve job quality is through a union contract." And she's right.
In the afternoon, in a special panel of the key leaders from across California's Labor Agency, the hundreds of delegates got to hear directly about the state's priorities and how they're being implemented. Panelists included:
Labor Commissioner Lilia Rodriguez whose priorities are to: "Enforce the labor code and support worker rights."
Jeff Killip, Director of Cal OSHA, said his priorities are "hiring—enforcement staff is down 30%; implementing the non-emergency standard on COVID-19, and launching with outdoor heat and wildfire smoke campaign, which will be more important than ever this year."
Tim Rainey, Executive Director of the California Workforce Development Board, said his goals are to create more good jobs. He wants to see "High Road" jobs that pay well and ensure that workers have a voice on the job—which generally means a union.
The panel also included the Directors of the Division of Industrial Relations, the Employment Development Department, Workers Comp, and the Employment Training Panel who all shared their top priorities.
Labor Secretary Natalie Palugyai closed out the panel by saying: "You can't have equity without workforce standards. My goal is to raise labor as an issue for all cabinet members because achieving any of our goals as a State comes down to workers."
Legislators come to us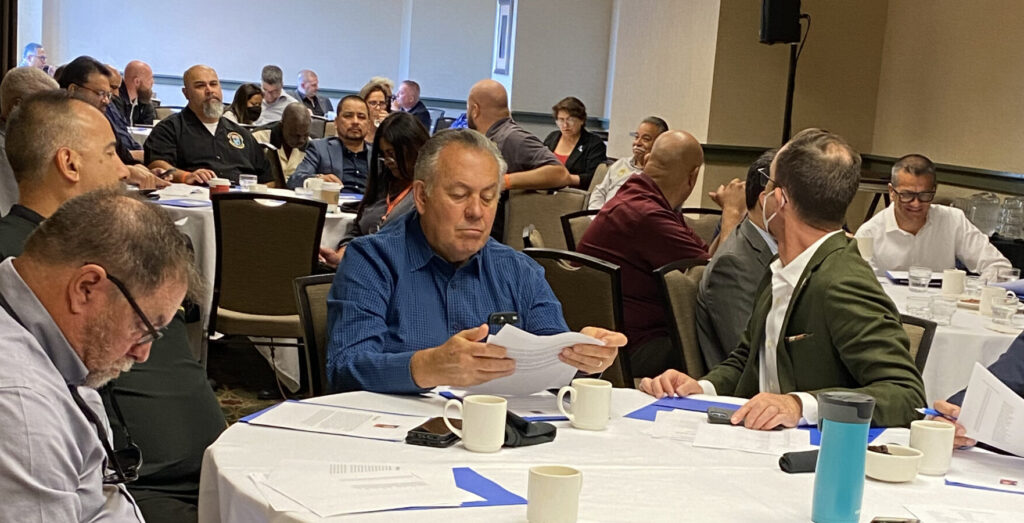 Opening the first Teamster Legislative Breakfast in three years early the next morning, JC7 President Jason Rabinowitz said that he's proud of our members who kept this country running during the pandemic and of our locals who protected our members' rights. "We have to be united as Teamsters and build political power to get done what needs getting done."
He also introduced the California Teamsters' ambitious legislative agenda. "We're leading the way in the fight against Amazon. It's a moonshot going up against the wealthiest company in the universe, but that company employs one million workers in high-tech sweatshops and we've got to make the effort. We're 12 for 12 in stopping Amazon facilities from opening. In San Francisco, we have a unique opportunity to organize Amazon. We're building a labor-community-environmental coalition and have a unique opportunity to win"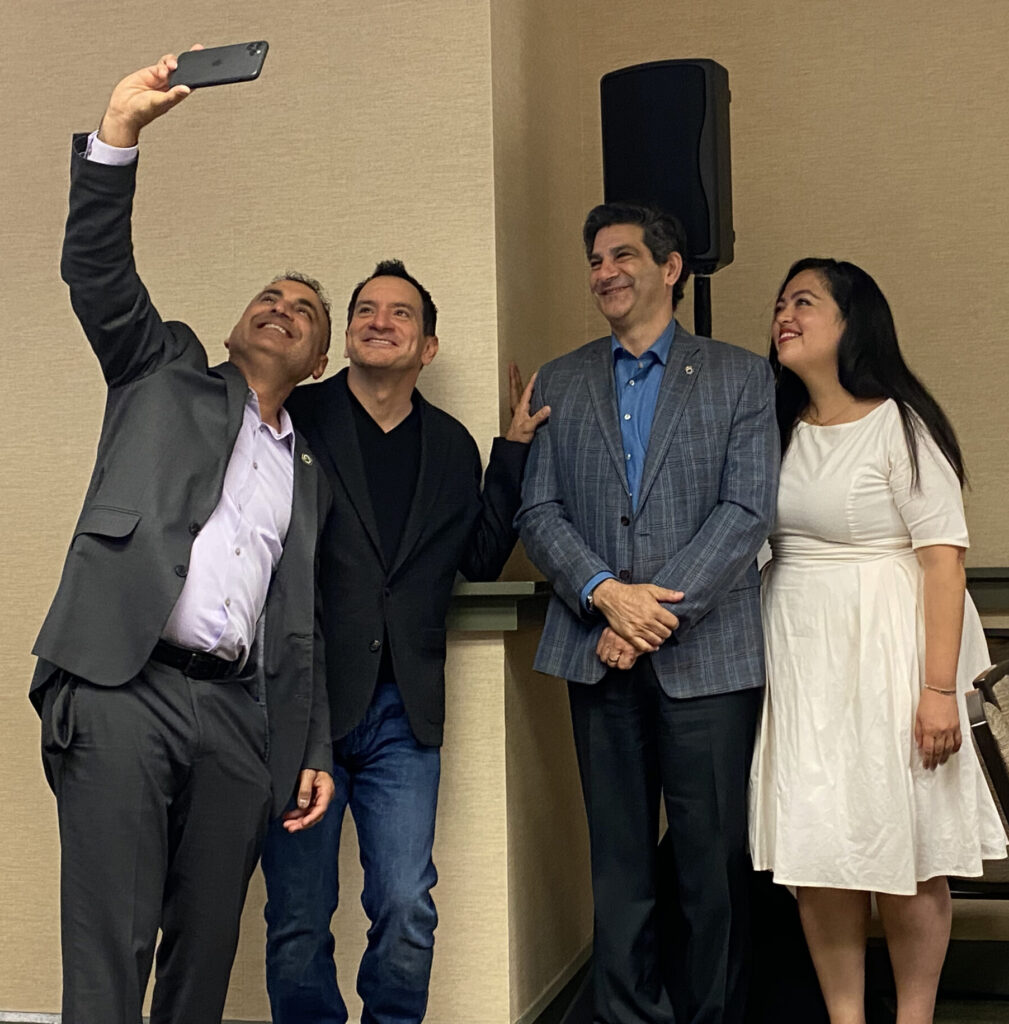 After hearing presentations from Shane Gusman and Matt Broad at the California Teamsters Public Affairs Council about the eight bills that the Teamsters are sponsoring in the legislature this year, the group heard from several legislators.
Asm. Ash Kalra (Chair – Assembly Committee on Labor and Employment): "The bills I've done…I haven't done them for you but with you. I've had a phenomenal relationship with Teamsters over many years. We won't have great quality jobs unless we demand them. As labor Chair, I try to make sure workers have a meaningful voice." Kalra also talked about how San Jose has the highest density of super millionaires anywhere in the world and yet also has a large unhoused population. "People go to work but don't have a place to live."
Asm. Wendy Carillo: (Assembly Labor committee and Appropriations committee) "The labor movement just doesn't fight for workers in the union—it fights for all working people. We face numerous challenges including the pandemic, the severe undercount in the census, and climate change. "We have to put people first. It's all about families. We should not have to choose between labor and the planet. What am I here for is to ensure that every worker has the right to dignity."
Asm. Anthony Rendon (Speaker of the Assembly): "After several years gone, we've missed you. It helps for labor to be there to ground the laws we're dealing with. We need to have a caucus that works for workers."
Sen. Dave Cortese (Chair, Senate Labor Committee) laid out his top priorities: "Passing the tax credit for union dues is especially important while we have this historic budget surplus. Also apprenticeship and gender equity."
Sen. Bob Hertzberg (Senate Majority Leader) is terming out of the legislature and running for Los Angeles County Supervisor gave the group some advice about how to pass our priorities: "Remember that everything we do is personal. Politics has really changed and there are lots of new members, so it's important to build a personal relationship with them. Take yourself out of the box."