Joint Council appoints new political director
January 6, 2023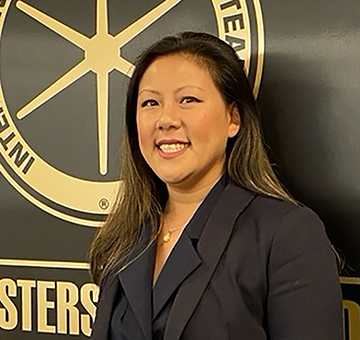 The Executive Board of Teamsters Joint Council 7 has appointed Trish Suzuki Blinstrub to the position of Political Director.
Trish comes to Joint Council 7 with extensive experience in the political arena and with the Teamsters. She has worked with local, state, and federal elected officials to improve the lives of union members and has worked to pass or quell numerous ballot propositions that impact working families.
For the past 11 years, Trish has served as Political Director for Teamsters Local 856, the largest Teamsters Local in Northern/Central California with 17,000 members in both the private and public sectors. Prior to that, she served as Political Director for the San Mateo Labor Council. She started her career in labor at SEIU Local 1000 as a Union Representative and Political Organizer.
In addition, Trish has been appointed to be a delegate to the California Democratic Party for six years and has served on the party's legislative and finance committees. A fourth-generation Californian of Japanese and Chinese descent, Trish is also raising two small children.
"I look forward to working alongside the Teamster members in Joint Council 7 to improve their livelihoods through the political process," Trish says. "As we know, all politics is local. The Teamster model is to work with members on the ground, in their communities. The one thing we have that corporations don't is the ability to mobilize our membership and turn out the vote, whether it's for candidates who support labor or to defeat or promote propositions that impact us."
"Trish comes to Joint Council 7 with tremendous skill and experience," says Joint Council 7 President Jason Rabinowitz. "With Trish as our Political Director, we will continue to build our union's political power to meet the challenges ahead: to take on greedy employers, win strong contracts, organize thousands of workers into the Teamsters, and improve pay and benefits for our members and all working people."
Trish may be contacted at trish@nullteamjc7.org.