Helping members and community cope with COVID
March 16, 2021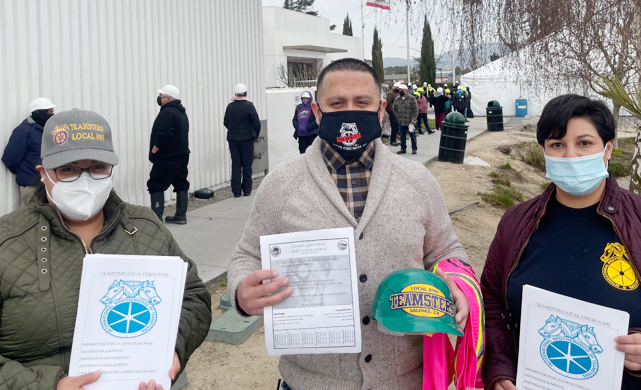 Members who work at Taylor Farms inform working members and those with COVID-19 of valuable resources available. From left: Maria Castro, Jose Garcia, and Enedina de la Torre.
Teamsters Local 890 has continued to be active in helping members and the wider working community cope with the difficult times caused by the COVID-19 pandemic.
Led by Principal Officer Crescencio Diaz, Local 890 has worked with local County Supervisors, growers, the Shippers Association, and the local health system to make COVID-19 vaccines available to Teamsters and other essential workers. Through these efforts, Local 890 ensured that food processing and agricultural workers are in Tier 1.
The Local also partnered with local nonprofits, such as Building Healthy Communities (BHC), to involve Teamster members in the COVID-19 project. "We are visiting worksites to register members for vaccinations and providing valuable resources," says Secretary-Treasurer Juan Cabrera. "In addition to educating members on their rights and available resources, our team is delivering medical supplies, food, and rental assistance for those who are COVID-19 positive and need to stay home."