$250,000 arbitration win at UPS
July 9, 2021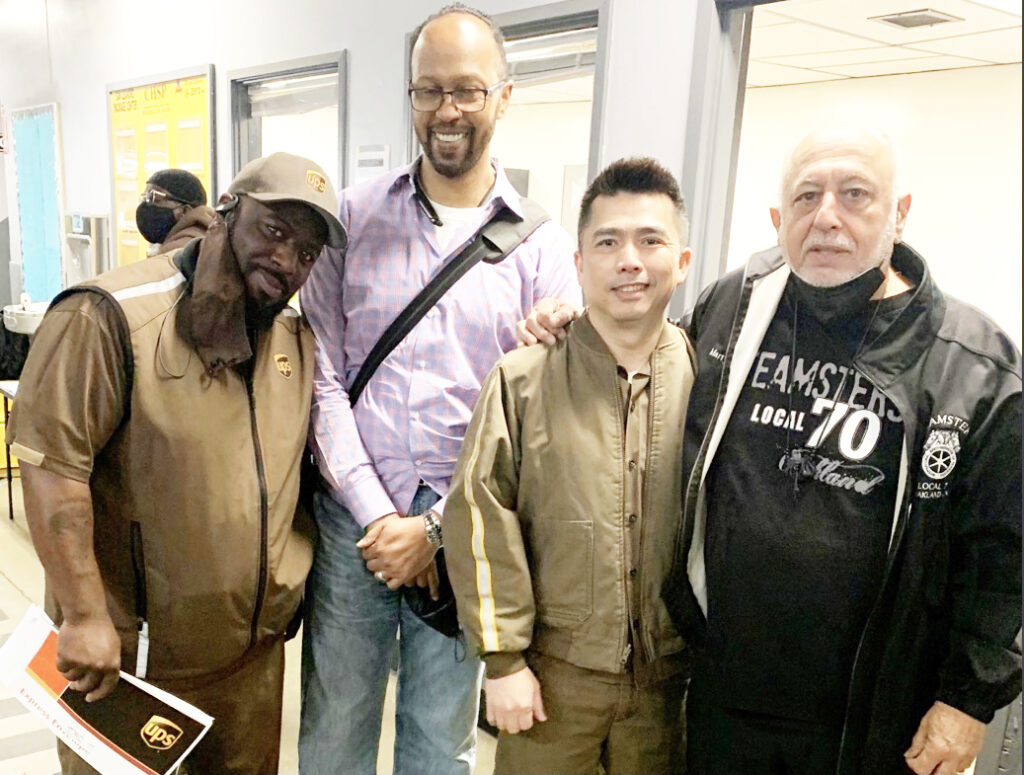 UPS Shop Stewards Thomas Lewis and Alonzo Watts, with Danny Chong and Local 70 Secretary-Treasurer Marty Frates.
Local 70 Secretary-Treasurer Marty Frates reports that Danny Chong, a UPS Package Driver from the Oakland building, has won his arbitration—including getting made whole for back wages, health and welfare, pension, and more. All told, the arbitration award is about $250,000.
After 30 years at UPS, with a good work record and no discipline, Danny was accused of theft of time and was removed from his job in August 2019. Danny is an Early Air Driver (EAR). After he delivers his Air, he would stop by his house for a period of time and then return to work on time to start his route. UPS decided to follow him based on Telematix and GPS information with no warning.
"The Union did not dispute the facts of the case," says Frates, "however, we made a point that all drivers are not treated equally."
Local 70 attorney David Rosenfeld argued that some drivers go home on route and return to the building prior to the start time, while others go back to the building to wait for their start time.
The arbitrator did not condone Danny going home but decided that this was not a dischargeable offense. Danny returned to work on March 21, 2021.
"This is one of the most rewarding accomplishments I have had as a union officer," said Frates. "Danny is an outstanding member and a great person and received a warm welcome from his co-workers. Justice prevailed!"
Frates wanted to thank Attorney David Rosenfeld for his outstanding job and also give special thanks to Shop Stewards Alonzo Watts and Thomas Lewis for their help.