Wading through a sea of retaliation in search of first contract at AAA
June 29, 2022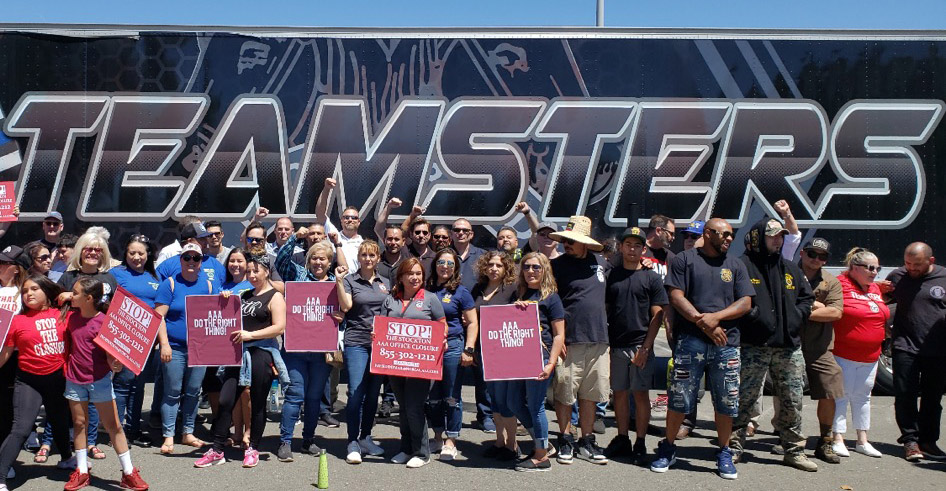 AAA insurance sales people and Teamster allies rally in Stockton against retaliatory branch closure.
Over 60 members, supporters, and elected officials rallied on May 31 in front of the Stockton AAA branch, where the insurance giant is closing its fourth highest-grossing branch out of 78 in retaliation against one of Local 665's biggest supporters.
"These workers chose to organize with us because AAA is outsourcing high-paying, middle-class careers into churn-and-burn, low-paying, high-turnover telemarketing jobs," said Tony Delorio, Local 665 Secretary-Treasurer. "AAA needs to stop acting like a hedge fund and start acting like a membership association. Do right by the people who service your members, sit down and negotiate a contract."
Angie Matthews is one of the AAA sales agents and a member of the negotiating committee who works at the Stockton branch and will be impacted by the closure. "We used to be called heroes," Matthews said. "We used to be honored and respected and the members were also. We are a membership organization, but AAA leadership has forgotten that and displayed that to the public. The members should be outraged."
Local 665 has filed an unfair labor practice charge about the projected June 30 closure and is currently bargaining over the effects.
Delorio wanted to give a special shoutout to Local 439 Principal Officer Sal Lomeli for bringing out members and providing the 439 truck as well as to Local 856 and 2010 for sending members to the rally.