Teamsters rally for AAA sales agents seeking representation
April 29, 2021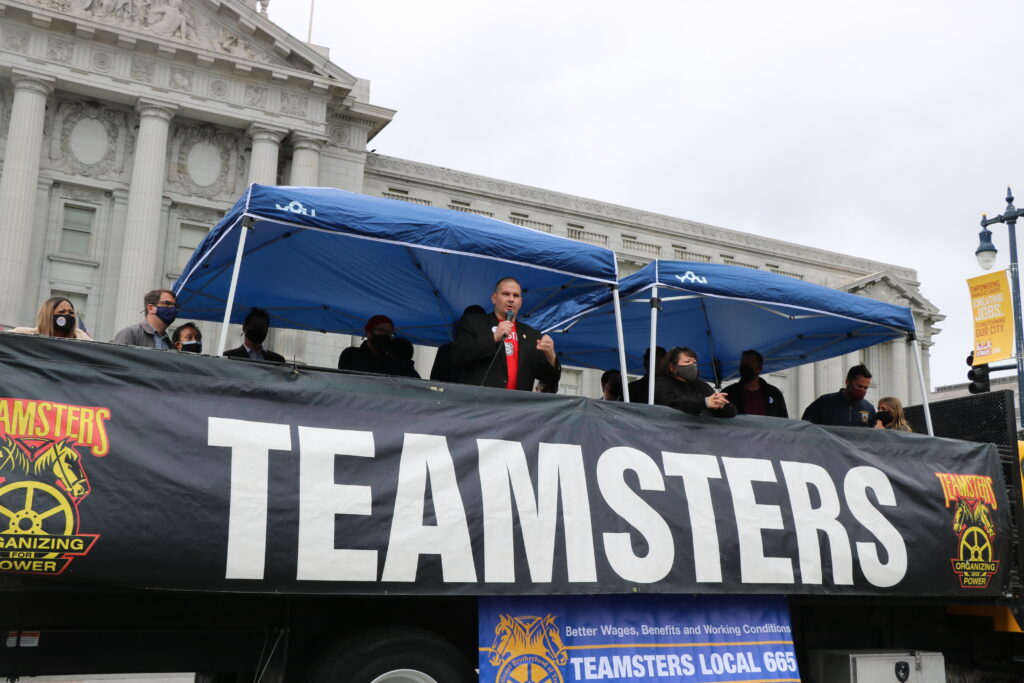 The Teamster 665 campaign for AAA agents shifted into high gear with an April 24 rally in front of San Francisco's City Hall that drew hundreds of workers, their families, and Teamster members from around Northern California.
Between chants of "AAA – TEAMSTERS!" from the crowd of supporters, state and local elected officials stepped up to the microphone to offer encouragement to the 460 AAA workers who are preparing for an NLRB election scheduled for May 14.
"We first met these workers just prior to the pandemic," explained Tony Delorio, Secretary-Treasurer of Local 665. "Even throughout the shutdown, we continued to organize with this group of workers, knowing that when things opened up, we could schedule an election."
Current AAA workers Brian Woodland, Carolyn Brown, and Angie Mathews each spoke to the crowd about the difficulties they are facing daily as the company sends union-busters to their worksite to spread disinformation and divisiveness. Mathew's 8-year-old daughter, Mila, stole the show when she grabbed the microphone and talked about how much she misses her mommy who's not around because of the workload and pressure put on her by AAA management.
Speakers and participants at the rally included Secretary-Treasurer Tony Delorio, Business Agent Tom Woods, San Francisco Board of Supervisors President Shamann Walton, State Senator Scott Wiener, Assemblymember David Chiu, and San Mateo Board of Supervisors President David Canepa.
Other elected officials who participated and voiced support for AAA workers included Supervisors Ahsha Safai, Connie Chan, Matt Haney, Rafael Mandelman, and Dean Preston.
AAA agents work at 77 locations in Northern California, extending from the Oregon border as far south as Merced. 460 women and men will be voting this election, with ballots slated to be mailed on May 14, and counted on June 10.