Looking for a contract, Local chases down AAA in Utah
March 30, 2022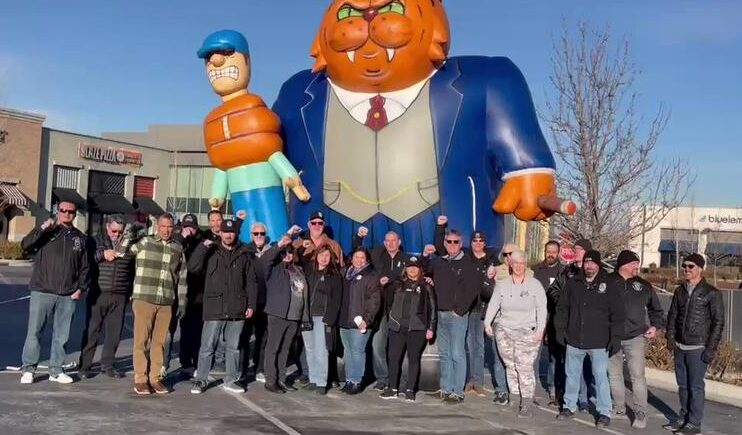 In June 2021, more than 400 AAA insurance agents organized with Teamsters Local 665 in a hard-fought campaign that covered 77 separate locations from Merced up to the Oregon border. Nine months later, these workers still don't have a contract and AAA recently proposed a 40% wage reduction.
For the past 30 years, AAA has held its annual membership meeting in Walnut Creek or San Francisco, but this year, the company took the unprecedented step of moving the meeting to Farmington, Utah to avoid having Local 665 and its bargaining team show up. On March 2, the union took its campaign to Utah.
"They've been stalling the negotiations," Jeff Wilkinson, a sales agent and union member from San Francisco who traveled to Utah with dozens of other California-based agents told the Salt Lake Tribune. "We want to demonstrate and exercise our rights as workers," he added, "and show to other workers that we want the company to respect our rights in organizing a union and giving us a contract."
Moments before the meeting started, AAA published the agenda. Although the meeting is open to all AAA members and usually allows for public comment, AAA shut that down this year. The meeting was scheduled to last for only 10 minutes, but AAA adjourned it after only two minutes.

Local 665 Business Agents Tom Woods and Joe Matekel and the members came out of the truncated meeting and they were furious.
The Local held a press conference outside the meeting and got a great article in the Salt Lake Tribune. Local 222 showed up in support and Joint Council 3 sent their truck along with the Joint Council 7 truck.
Finally, we went to do some informational leafleting at the local AAA branch office around the corner, but discovered that it was closed due to an "emergency." "AAA's cowardice is unbelievable," says Joint Council 7 Political Director Doug Bloch. "This is not the end of this fight by any means."
Bloch gives big props to Tony Delorio and the whole team from Local 665, Ricardo Hidalgo from IBT Organizing, Spencer Hogue from Local 222, Kara Deniz and her team from IBT Communications, and of course Mike Fritz and Gary Briggs for making the drive to Utah in the Joint Council's truck. "The members are fired up!" he adds.
Teamsters announce successful pushback of parking tax increase
In February, Local 665 officers beat back efforts to increase the San Francisco Parking Space Occupancy Tax.
"Emerging from the pandemic, there are many calls for funding that local government will seek
to restore services to full strength," said Local 665 Secretary-Treasurer Tony Delorio. "In recent talks with public officials, we were clear that we could support changes to other streams of revenue generation, but a parking tax increase remains a non-starter because it hurts workers—particularly the 1,200 Local 665 members who work in the parking industry."
"We appreciate the civic and public support in understanding the detrimental impact a potential increase would have on our members," Delorio added, thankful that the parking tax increase has been withdrawn.