Local 665 assists with vehicles bound for Haiti
September 22, 2020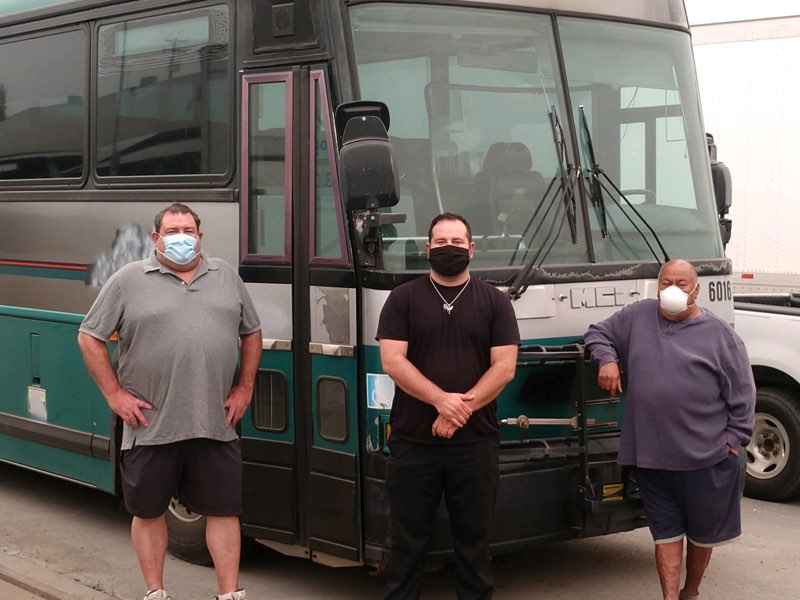 (From Left) Member Tony Averiette, Business Agent/Recording Secretary Juan Gallo, and member Semisi Tuivailala worked to prepare the vehicles and will drive them to Florida, en route to Haiti. (Fourth driver not pictured is member Robert Conklin.)
Officers and members of Local 665 joined a San Francisco Supervisor in leading a convoy of desperately needed vehicles to be used by school children in the country of Haiti.
Working with Those Angels Inc. and Teamster-endorsed Supervisor Ahsha Safai, Local 665 Secretary-Treasurer Tony Delorio and Recording Secretary Juan Gallo assembled volunteer members to deliver three donated AC Transit buses and one donated ambulance to Florida for shipment to a school in Carrefour, Haiti.
"Supervisor Safai introduced us to Claude Joseph. He explained his efforts to bring these donated vehicles to Haiti," said Delorio. "What they needed were trained drivers who could get them from California to Florida, and then to Haiti by boat. I knew the Teamsters could help fill that gap."
In September, as this paper goes to press, members of Local 665, led by Gallo, will caravan the buses and ambulance to the Florida port for shipment.
When the vehicles arrive in Haiti, they will be used to provide 150 students with the opportunity not only to be transported to and from school but also on field trips and excursions to experience the beautiful side of Haiti they only get to read in books because they can't afford to travel beyond the boundaries of Port-au-Prince. These 150 students attend ECOFA, a school that Those Angels, Inc. founded and built in 2015 to provide free education to underprivileged children, according to Claude Joseph.
"Our Local is honored to provide our expertise so that these children will benefit," Gallo said.
The donated vehicles making their way across the country with Teamster drivers behind the wheel won't be empty. "Those Angels Inc. has been working overtime to fill the buses with school supplies of every kind, and the ambulance will have much-needed medical and health supplies," Deloria said. "This is the kind of effort that makes all of our training as Teamsters so rewarding."