Teamsters Local 287 wins Cemex driver's job back
April 3, 2019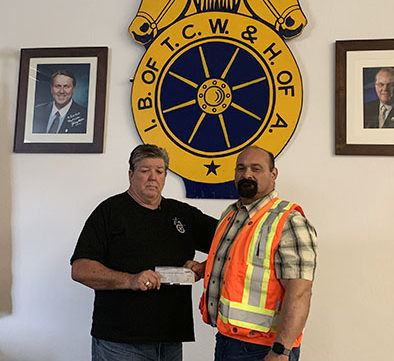 Business Rep George Netto helps member Eddie Venancio get his job back at Cemex.
Teamsters Local 287  has won a fired CEMEX Ready-Mix driver's job back with back pay, benefits and no loss of seniority.
The company fired the driver, Eddie Venancio, on January 25, 2018 alleging that he had "an altercation on a job site" nine days earlier after his truck was struck by a driver of a dump truck on a jobsite. Business Rep George Netto filed a grievance and the parties agreed to hold a hearing before an arbitrator.
The issue was whether Venancio was discharged for just cause. Section 19 of the contract states: "No employee shall be discharged or suspended without just cause."
In his January 17, 2019 decision, Arbitrator Robert M. Hirsch sided with Local 287's challenge.
"In short, Cemex failed to provide admissible evidence establishing that the Grievant [Venancio] 'had an altercation on a jobsite,' as it concluded in the termination letter," the arbitrator wrote. Venancio was awarded $154,006 in back pay and benefits.