Federal support for airport workers
July 3, 2020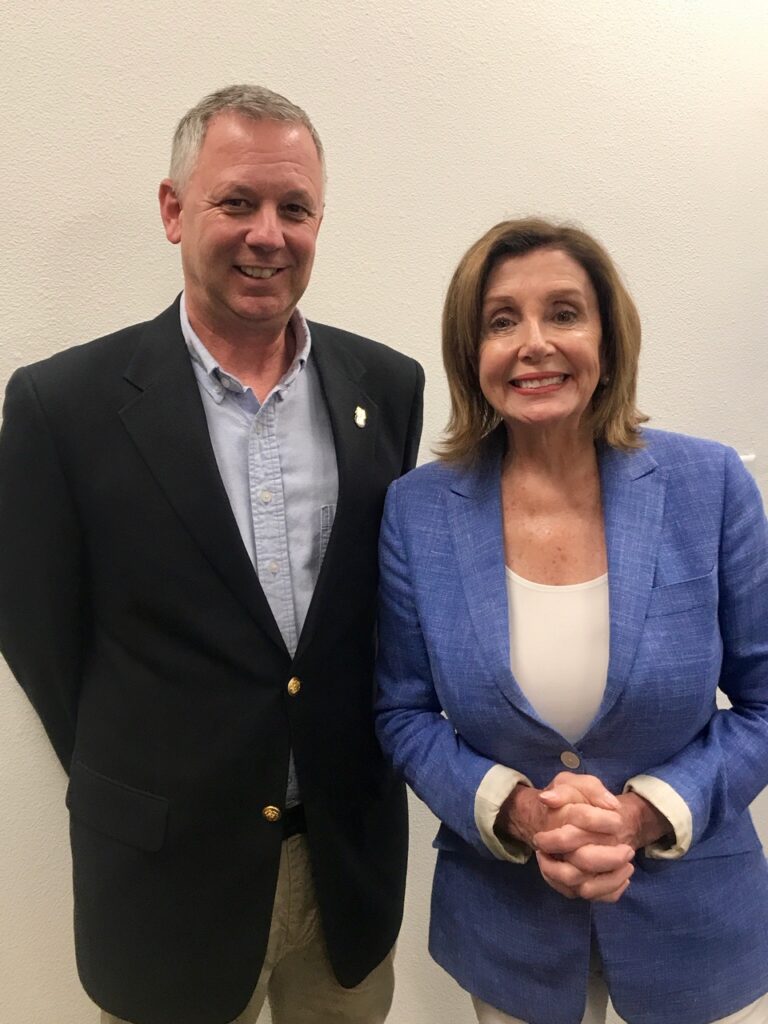 Business Rep Terry Mullady with House Speaker Nancy Pelosi after he spoke with her about the plight of airline workers.
Within the first few weeks that the pandemic hit and travel was restricted, thousands of airport workers lost their jobs. With so few people flying, the need for airplane cleaning and food service suddenly became negligible.
Nearly a third of the Teamsters who work as drivers and helpers at Gate Gourmet at the San Francisco Airport immediately found themselves jobless. HERE—the Hotel and Restaurant Employees Union—saw 70% layoffs.
Fortunately, Congress came to the rescue. In their first of three (so far) relief bills known as the CARES Act, they allocated $3 billion for the airline industry—including the companies that service the airlines.
"I have to believe that this support came from the relationship Teamsters were building with Speaker of the House Nancy Pelosi," says Local 2785 Business Agent Terry Mullady, who had met with Pelosi last September to tell her of the plight of Gate Gourmet workers to get a decent contract. "She really got how much I care about these people."
Mullady recalls that when 9/11 happened, it destroyed thousands of careers at airports. "This is the first time that these workers have been recognized, and this bill will save them."
Mullady says that getting this money was a huge team effort; spearheaded by Steve Vairma, who directs the Warehouse Division and the Gate Gourmet negotiating committee, it included every level of the Teamsters.