John Quimby – International Paper (DC2)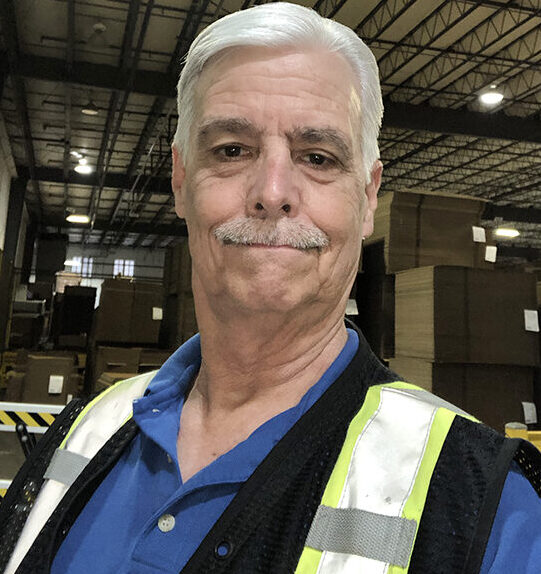 John Quimby owes his life to the Teamsters. In 2019, he needed a liver transplant. "If I didn't have this good union job with those great union benefits, I'd be dead." He's sure his union medical benefits saved his life.
For the past 22 years, John Quimby has worked at International Paper in Elk Grove, and he's been an active member with District Council 2 of the Graphic Communications Conference, serving as recording secretary for the union and as chief shop steward on the job.
At the worksite, Quimby works as the Safety Advocate, a position that has kept him particularly busy during COVID. "Our members were all 'essential workers,' throughout the pandemic," he says. Workers at the Elk Grove facility make agricultural and industrial box packaging, which includes corrugated boxes for Amazon as well as boxes for seasonal products like cherries and other produce. Quimby says he was the guy wiping off the knobs and making sure everyone had masks and hand sanitizer. He also does inspections and audits and trains new hires.
"It's great to be in a business that's essential to the fabric of society. We help America stay supplied," he says with some pride.
Quimby says that Teamsters DC2 was formed when the Graphic Communications International Union (GCIU) merged with the Teamsters in 2005 and became the Teamsters Graphic Communications Conference (GCC).
"I spent my first year at work complaining about the union. Then I decided to get involved," he explains. "Within a few years, I became Chief Shop Steward here." After the Local was put into trusteeship in 2011, Quimby joined the new leadership slate as Recording Secretary and has served in that position ever since. He looks forward to getting involved with his fifth set of union negotiations next year. "I'm always impressed with how our union officers handle that." Quimby particularly wanted to recognize Clark Ritchey, the Principal Officer of DC2, who turned the union around since its trusteeship. He also wanted to appreciate Rome Aloise and the leadership of Joint Council 7 for keeping DC2 involved.
Part of Quimby's job is to talk to new hires about how the union works and how having union representation gives them a voice in their contracts, working conditions, and benefits. "I always share how our increased clout in contract negotiations since we merged with the Teamsters in 2005 has produced better deals."
Back to that liver transplant, Quimby says that his daughter was able to donate half of her liver to save him. As livers regenerate, father and daughter now both have fully-grown, healthy livers. "Not only was I supported by my family, but I was also totally supported by my union," he says, recalling how that helped him speed his recovery from six months to three. "Having those union benefits saved my life and gave me a future. My retirement, when it comes, should be great. I look forward to enjoying it for a long time."